Uganda`s 1-Day Tours: Before or after your gorilla and/or wildlife safari, Amakula African Safaris arranges day trips to see the sights and sounds of Uganda. Those who have some free time before or after their safari are advised to go on day tours. Many visitors land in Uganda on early flights and find themselves with some free time in Entebbe or Kampala. We have put together ideas for things to do in Entebbe or Kampala during the time before your tour.
Uganda`s 1-Day Tours
Day trips in Entebbe Town
For guests staying in hotels and guest houses in Entebbe, there are a number of extra excursions available. You can decide to go to the Botanical Garden, which is situated beside Lake Victoria. It is close to several guest houses in Entebbe, including Boma, Karibu, Airport Guest House, Lake Victoria Hotel, Gately Inn, and African Routes Guest House. One of the best spots in Entebbe to take nature hikes and see some uncommon monkeys and birds.
Ngamba Island Day trips and boat excursions
Day tours in Uganda depart for Ngamba Island at 8:45 in the morning and 12:45 in the afternoon. All of these day trips are about orphaned chimpanzees that are transferred to Ngamba Island for rehabilitation after being rescued from wildlife traffickers. One of the caretakers on the island will deliver an educational discussion, and visitors will also have the opportunity to watch chimpanzees' feed. You have the opportunity to halt at the equator crossing in Lake Victoria during the boat tour, which departs from Entebbe's main land in around 45 minutes.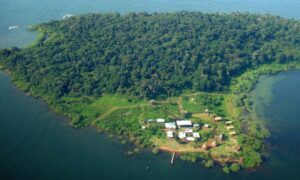 Visit Ngamba Island on day tours in Uganda
Uwec Zoo
Once a zoo, the facility has grown to become a wildlife education center where visitors can spend some time seeing animals in a setting that is somewhat akin to nature. The Uganda Wildlife Education Center is home to a wide variety of creatures, including elephants, lions, giraffes, chimps, snakes, rhinos, and many more. As a result, a wide variety of activities have emerged, and clients are free to take part in any of them. Chimpanzee up close, a behind-the-scenes program, a keeper for the day, and general wildlife viewing are among the activities offered at the Uganda Wildlife Education Center.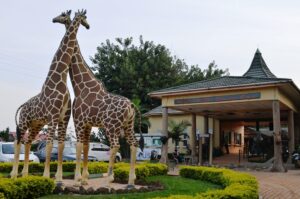 Entebbe Zoo
Entebbe road markets
One of the few towns in Uganda with organized roadside markets is Entebbe. In order to sell their goods to onlookers, many sellers swarm these streets in Entebbe, making it a very common practice. The Friday road market held in Kitoro town is the most well-liked. Join our day travels every Tuesday if you are looking for any type of commodities at a reasonable price.

Entebbe Market
Kampala City tour and day trips
Kampala, once known as the "city of seven hills," has grown to encompass practically all nearby hills. In Kampala, there is a lot to see and do, and what you see will depend on how much time you have. On a tour of Kampala, you may have the chance to see the city's markets, malls, cathedrals, mosques, and culturally significant Buganda structures like Kasubi Tombs and Lubiri. Other locations of interest include the Uganda Museum and the Baha'i Temple. If time permits, you can also visit the shrine of the Namugongo Martyrs. There is a lot to see, and you can contact us for further information.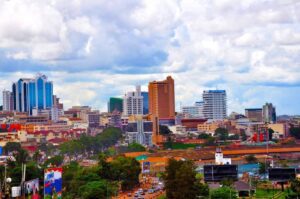 Kampala  City
Jinja day trips and source of the Nile
In the early 1980s, Jinja town, the former industrial hub of Uganda, boosted tourism with activities like white-water rafting on the Nile, kayaking, and viewing the source of the majestic River Nile on a boat launch. learn more
Amakula African Safaris cordially invites you to participate in our day trip program. Should you have any free time before or after your safari, we will be happy to arrange for one of our programs for you.
Jinja city Bridge along source of the Nile