Things to do in Volcanoes National Park Rwanda: Rwanda is a must-visit tourist destination in Africa receiving thousands of tourists every year. Rwanda is a small landlocked country positioned in East Africa, bordering Uganda in the south, bordered by Tanzania in the East, and the Democratic Republic of Congo in the West
You can't miss these top five activities while visiting Volcanoes national park. Rwanda:
Located in the northern province of Rwanda in Musanze, the Parc National de Volcans (PNV) is the most popular tourist destination.
As one of Africa's first national parks, it was established in 1925 to protect the critically endangered mountain gorilla population.
This national park is also home to a wide variety of other animals and plants, including the endangered mountain gorilla, golden monkeys, chimpanzee, as well as birds and the Volcanic Mountains themselves.
Volcanoes national park  top five activities
Gorilla Trekking in Volcanoes national park Rwanda
It is one of the park's most popular activities, allowing visitors to journey into the jungle in search of the park's habituated gorilla families and spend an hour with them in their natural surroundings.
In total, there are 18 habituated gorilla families in Volcanoes National Park, 12 of which are accessible for gorilla trekking, while the other four are kept for research purposes only.
There is a briefing in the morning to explain the rules and expectations of the park's gorilla treks.
Grouped into 8 persons, you will be assigned a gorilla family to hike and a park guide who knows the gorilla pathways in the jungle well after the briefing.
Volcanoes national park mountain gorilla treks begin at 8:00 a.m. and can last anywhere from 30 minutes to six hours, depending on the gorillas' exact position.
A one-hour encounter with gorillas in their natural habitat will allow you to learn more about their routines and mannerisms as well as photograph and videotape the experience.
Gorilla trekking permits cost $1500 per person for all nations and may be purchased through the Rwanda Developed Board or a reputable tour operator as Achieve Global Safaris. Those interested in gorilla trekking, however, must have a valid permit.
From Kigali, you can go gorilla trekking for two days.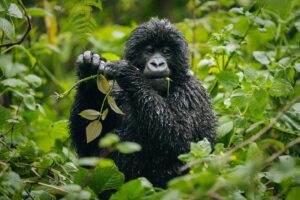 Golden Monkey Trekking
The second most popular activity in the park is golden monkey trekking.
Golden monkey trekking is accessible every day in Volcanoes National Park, which is home to two habituated golden monkey families.
After a briefing at the park headquarters in the morning, you will be assigned a golden monkey troop to trek and a park guide who will show you the pathways to follow when trekking.
There is a 30-minute to 4-hour window of time for golden monkey trekking, after which you will be able to spend an hour with the monkeys in their natural habitat, where you may see and photograph them in action.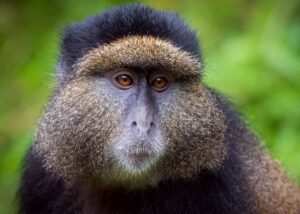 Volcano Mount Hiking
Three nations, Uganda, Rwanda, and the Democratic Republic of the Congo (DRC), are home to eight Virunga mountains.
Mount Karisimbi, Mount Bisoke, Mount Gahinga, Mount Sabyinyo, and Mount Muhavura are all located in Volcanoes national park.
Hiking Mount Karisimbi, this is the tallest mountain among the Virunga volcanoes towering at an elevation of 4,507metres above the sea level.
The two-day hike up Mount Karisimbi is arduous, requiring an overnight stop at an elevation of 3,700 meters on the first day before continuing on the second.
While trekking, you'll see a variety of birds, primates, and plants, and at the summit, you'll see Mount Nyiragongo, Nyamulagira, and Muhabura volcanoes, as well as a big forest.
With a height of 3711 meters above sea level, Mount Bisoke is the highest mountain in Rwanda and is located on the border with the Democratic Republic of Congo.
The crater lake at the summit of Mount Bisoke may be seen from the trail, which takes around 6 hours to complete.
Hiking Mount Muhavura, which is located in Volcanoes national park in Rwanda and Mgahinga gorilla national park in Uganda, is a great way to see both national parks.
The 4127-meter-high volcanic peak offers breathtaking views of the surrounding countryside, including the twin lakes of Lake Burera and Lake Ruhondo.
Crater Lake may be seen from the summit of the mountain after a six- to eight-hour hike.
At a height of 3474 meters above sea level, Mount Gahinga is a volcano.
Because it's one of the park's shorter volcanic mountains, it's good for first-time hikers.
While ascending, you'll see a variety of primates, plants, and birds, and when you reach the summit, you'll see a marshy caldera in all its glory.
Mgahinga Gorilla National Park in Uganda or Volcanoes National Park in Kenya are the best places to begin a climb up Mount Sabinyo, a volcanic peak.
At a height of 3645 meters, the peak straddles three countries: Uganda, Rwanda, and the Democratic Republic of the Congo, making it a triangular walk.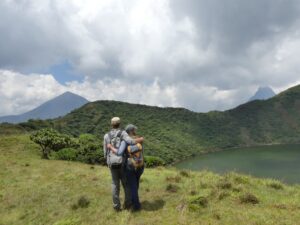 4  -The Dian Fossey Hike
In Volcanoes national park, you can take a hike to the research center where Dian Fossey's grave is located, a primatologist who was killed in 1985 while conducting study on mountain gorillas.
You'll be able to see primates, animals, birds, and a variety of vegetation during the three-hour trip.
You will also witness the burial of digit Dian Fossey beloved companion and other grave yards of roughly 20 gorillas which were either killed by poachers or experienced death due to other circumstances.
It's a great way to learn more about Dian Fossey's life and work by making the trek to her research center.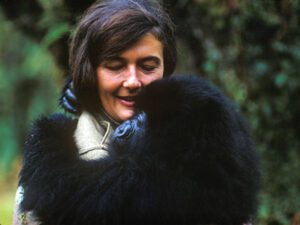 Cultural Tours
Volcanoes National Park offers a unique opportunity to contact with the locals and learn about their way of life.
Itinerary includes visits to the Iby'iwacu cultural village, a traditional healer's home, and the king's house, where you will learn about the people's way of life and enjoy traditional dances like Entore. You'll also get to taste their locally-made brew from bananas; learn how to make baskets and mats; and be entertained by music and dance.
Visiting Volcanoes National Park Rwanda at the Right Time
Visitors to Volcanoes National Park can go at any time of year, although the optimum period is from June to September and December to February during the dry season.
Because the national park receives less rain during the dry season, access roads and gorilla trekking trails in the forest are more easily accessible than during the wet season.
Located in the north of Rwanda, Volcanoes national park is accessible by road.
Kigali International Airport serves as the gateway to the Volcanoes national park, which is roughly a two-hour drive from the airport.
Because public transportation is not permitted inside the park, the best way to get to Volcanoes National Park from Kigali is to take a bus to Musanze, where you may then take a private cab to the park headquarters.