Tour to Dr. Congo: Congo is the second-biggest nation on the African continent and the largest nation in sub-Saharan Africa. Zaire was the previous name of the nation, which was eventually renamed to The Democratic Republic of Congo. While Lingala is the primary language of communication, the Bantu ethnic group dominates the nation. Belgium colonized the Democratic Republic of Congo, which as a result has a strong French influence. French is an official language of communication and is widely spoken..
Notwithstanding what the media reports and the fact that the north-eastern region of the country is still impacted by civil wars, you must travel to the Democratic Republic of the Congo at least once in your lifetime. The nation has a lot to offer and will soon rank among the top tourist attractions in all of Africa. One of the few nations in Africa that still possesses substantial sections of pristine, undeveloped wilderness is the Democratic Republic of the Congo. It is a nation that gives you the chance to see Africa as it once was. A Tour to Dr. Congo will take you to locations that are seldom ever visited by tourists, impenetrable woods, enormous crater lakes with bubbling lava, and uncommon animals like the okapi, bonobos, and beautiful gorillas. Only in the Democratic Republic of the Congo is it possible to see both mountain and lowland gorillas in their natural habitat.
One of Africa's liveliest and most intriguing cities is Kinshasa, the nation's capital. Kinshasa's population of over 10 million people, who come from a variety of cultural origins, enables the locals to forget and live in the present. The wealthy elite resides in more developed districts, while the less fortunate live in large suburbs. Government buildings are located both in the city's core and in remote regions with pristine roadways and cutting-edge infrastructure.  Several retail malls can be found in Kinshasa, where you may sample spicy Congolese cuisine and purchase genuine African clothing. The parliament building, the Musée National de Kinshasa, and other notable historical structures are among the numerous attractions in the capital.
Despite having a big tourism industry and other natural resources, why is Congo trailing other African nations? Political instability is the straightforward response. Since gaining independence, the nation has never had complete peace. Because several regions of the country are under little official control, the tourism infrastructure there is still under developed. The North-Eastern region of the country still retains a few small rebel strongholds, which has scared off many visitors. Notwithstanding its administrative problems and general lack of security, the Democratic Republic of Congo is simply impossible to resist. Thousands of tourists still visit each year to take advantage of everything the nation has to offer. Many tourists travel to the Virunga and Kahuzi-Biega National Parks to do gorilla trekking, but climbing the Nyiragongo Volcano is just as amazing. If there was complete peace and more money was directed toward enhancing infrastructure, there would be endless potential for tourism.
Tour to Dr. Congo – Places to go to while on a Congo Wildlife tour
Don't hold off if you want to go on a safari in Congo. Not all areas of the nation are dangerous. National Parks like Virunga have made significant investments to guarantee visitor safety. The park is constantly patrolled by an army of Rangers who look out for visitors. After your vacation, you'll have some of the loveliest recollections of Africa. We'll talk about some of the locations to see while on a Congo safari.
Virunga National Park: In the Democratic Republic of the Congo, this is the park that receives the most visitors. The park is a portion of the larger Virunga conservation region, which also include the national parks of Mgahinga in Uganda and the Volcanoes in Rwanda. Because of its incredible biodiversity, Virunga is Africa's oldest national park and a UNESCO World Heritage site. The park is home to uncommon wildlife including the bongo and okapi, as well as rivers, lakes, dense woods, volcanoes (Mikeno, Nyamuragira, and Nyiragongo). Mountain gorillas, which are in risk of extinction, live in the Virunga National Park. Although gorilla safaris are particularly well-liked, the park also attracts lots of visitors who want to see the biggest lava lake in the world (found on top of mount Nyiragongo). Together with mountain gorillas, Virunga National Park is also home to over 800 different kinds of birds, African forest elephants,buffalo, red river hogs, duikers, de brazza monkeys, and common monkeys.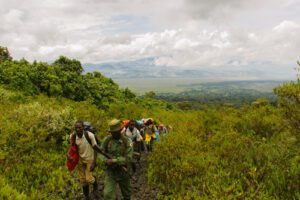 Garamba National park: One of the first national parks in Africa, Garamaba is situated in the north-eastern region of the Democratic Republic of the Congo. Africa Parks is in charge of looking after this UNESCO World Heritage Site. Garamba National Park in the Democratic Republic of the Congo is yet unspoiled and unexplored. Since a big portion of the park is made up of short savannah grassland, visitors can enjoy clear views of the park and its incredible variety of species. Rhinos, antelopes, giraffes, lions, elephants, hippos, and many other animals can be seen. Regrettably, poaching has had a serious impact on Garamba, especially when it comes to tusks from elephants. A current issue is the intrusion of humans and rebels onto park territory.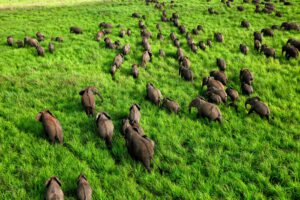 Kahuzi-Biega National Park: The Congolese Republic of Congo is where this national park is situated. Kahuzi and Biega, two extinct volcanoes, are the source of its name. In addition to these two mountains, the park is also notable for the lovely Lake Kivu that is located nearby. The Eastern Lowland Gorilla, also called the Grauer's Gorilla, resides in Kahuzi-Biega. The largest species of gorillas are those found in the eastern lowlands. In the wild of Kahuzi-Biega National Park, less than 5,000 still exist. There are only these gorillas in the Democratic Republic of the Congo (In Kahuzi-Biega and Maiko national park). Elephants, enormous forest pigs, chimpanzees, olive baboons, otters, and many other creatures may be found in Kahuzi Biega National Park. A visit to Kahuzi-Biega National Park is unique since it allows you to see untouched, natural environment.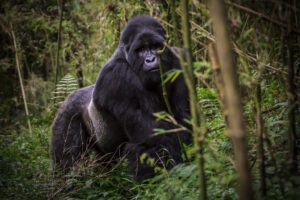 Salonga National Park: Tshuapa National Park was the previous name of the 1956-founded Salongo National Park. One of Africa's greatest tropical rainforest sections may be found in this UNESCO World Heritage Site. The vast Congo River is the only way to get to the park since it cannot be reached by land. The Salonga National Park is home to several endemic species, including bonobos, chimpanzees, elephants, peacocks, mongooses, and pangolin. For those seeking something unique, a safari in Salonga National Park is perfect. It will be rewarding for individuals who value nature and who desire to experience Africa's natural splendor in Salonga National Park. Here, you may still see undeveloped parts of Africa without any tourists while heading to Salonga National Park.
Lola ya Bonobo Sanctuary: In Lingala, Lola ya Bonobo means "paradise of bonobo". The capital city of Kinshasa is home to this refuge. While on a Tour to Dr. Congo, to Lola ya Bonobo Sanctuary, you will find bonobos or pygmy chimpanzees. They and the common chimpanzee are our nearest living relatives. The government and conservationists established the Lola ya Bonobo Sanctuary to protect those who were saved from poachers or left orphaned as a result of widespread bush meat poaching. One of the most popular destinations in Kinshasa is the Lola ya Bonobo Sanctuary. The sanctuary is located on 30 hectares of forest, which enables the primates to dwell in a setting resembling woods.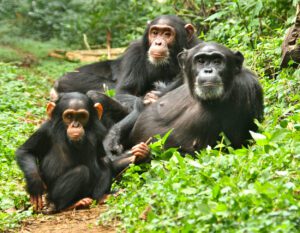 Mount Nyiragongo Volcano: Inside the Virunga National Park is the active Mount Nyiragongo. Because of its distinction, we felt forced to rank it separately as an attraction. In 2011, Mount Nyiragongo last erupted. Lava rushed out of the top during the most recent eruption at a high rate of speed, taking only 10 minutes to reach Goma town and Lake Kivu. In addition to destroying homes and taking lives, this eruption also affected approximately 200,000 people. It was reopened to tourists once it had calmed down and cooled off. It is regarded as the world's most stable and ideal location for viewing a lava lake. Visitors who go to the volcano's peak are rewarded with breathtaking views of a lava lake and the larger Virunga hills. Consider trekking Mount Nyiragongo if you want to experience something unique, rewarding, and memorable.
Other activities while on a Tour to Dr. Congo
Visiting the Okapi Wildlife Reserve and hunting with pygmies.
Game viewing in other national parks and reserves around the country.
Relaxing along the shores of Lake Kivu or taking a boat to discover the wild Congo River.
Visiting the Boyoma and Livingstone falls.
Climbing mount Mikeno and Nyamuragira in Virunga National Park.
Discovering the mysterious and ancient caves like Kakanda, Thysville, Matupi and Dimba.