Undoubtedly, one of the most thrilling activities in Rwanda is kayaking on Lake Kivu. With single or double-seater kayaks, it gives visitors the chance to paddle at their own pace while discovering the shores' hidden beauty and taking in views of the picturesque hillside backdrop, surrounding sceneries, and calmness of its deep emerald waters, which have a total surface area of about 270,000 hectares.
With a local guide, you may spend the day kayaking on Lake Kivu and taking in the splendor of both Rwanda's and Africa's largest lake. You can start from Gisenyi, Kibuye, or any of the resorts (such Cleo Kivu Hotel), and then paddle along the banks while passing the little Islands and watching birds dart in and out of the forest while fishermen prepare their nets during the day for casting by dusk.
Your guide will share interesting local legends and stories with you as you gently paddle across Lake Kivu, taking in the lakeside scenery along the way. You can also take in the luxurious resorts that line the hills near Gisenyi or Kibuye, depending on where your kayaking adventure began, and admire them as you paddle. Kayaking at Lake Kivu is suitable for all skill levels and is a great way to explore the unspoiled beauty of Rwanda's largest lake, which is also shared with the neighboring Democratic Republic of the Congo. At the beginning of this once-in-a-lifetime experience, a safety briefing and training are often offered for all visitors.
Lake Kivu, an African Great Lake and unquestionable treasure trove, is hidden away in the western part of Rwanda and is surrounded by breathtaking mountains and deep, emerald-green waters that provide shelter to many species of cichlids, including redbreast tilapia, Lake Tanganyika sardines, long fin tilapia, and many others. On Lake Kivu, kayaking allows you to independently explore the lake's lovely white sand beaches and remote rural communities.
Meet the team in Gisenyi or Kibuye to embark on this unparalleled kayaking adventure on Lake Kivu. You will learn—and perhaps even concur—that going on a kayaking excursion is one of the most memorable ways to take advantage of this wonderful safari location and its remote shoreline. Kayaking is surprisingly suitable for both adults and kids. Visitors can now paddle at their own leisure and take the greatest possible in-depth tour of Lake Kivu after a brief safety lesson and training (demonstration).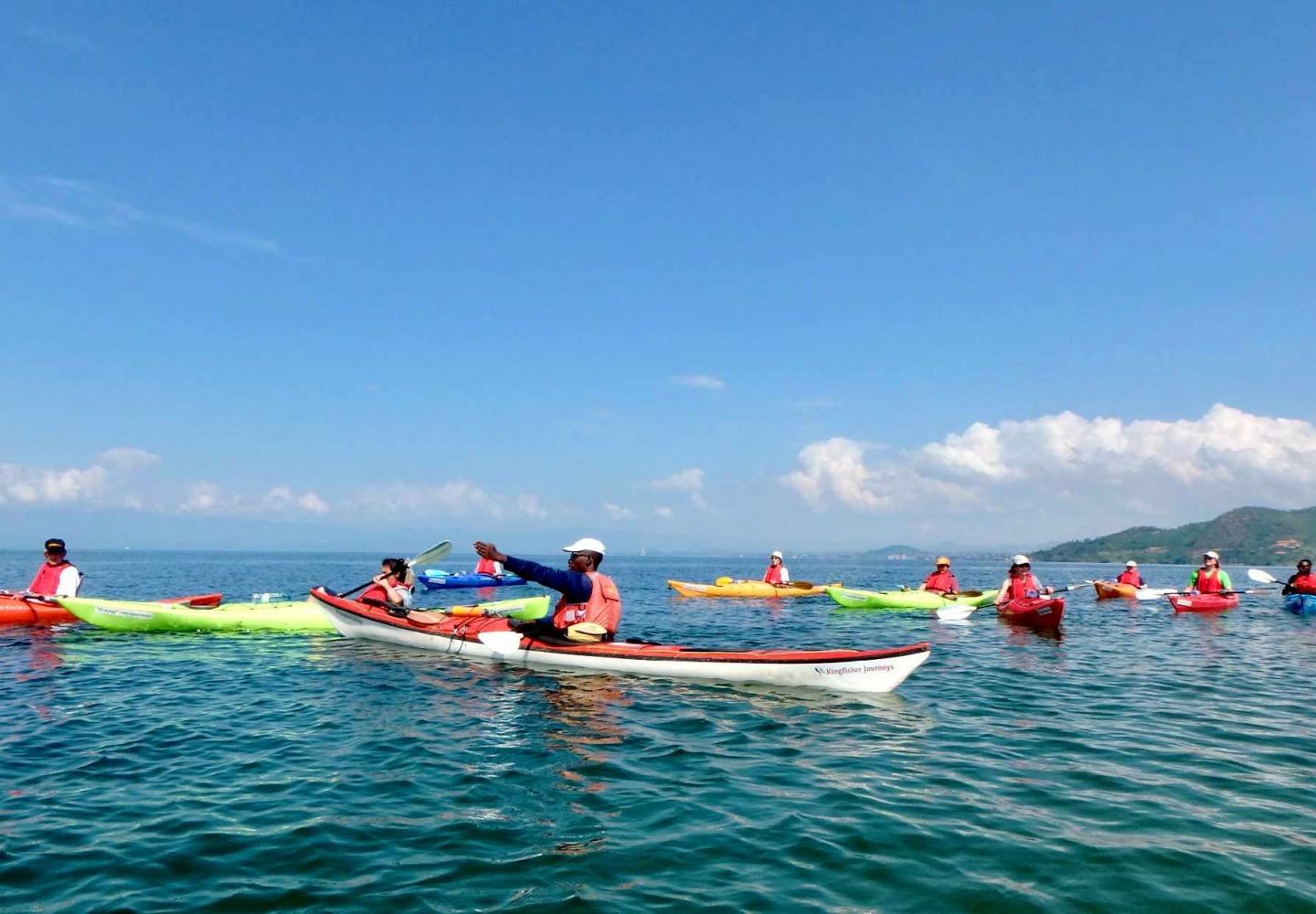 The use of cutting-edge BIC brand kayaks makes them adaptable and maneuverable for Lake Adventures. They also include stern handles, which let you to grab onto them while swimming and make it simple to get on and off the boat. These boats are perfect for exploring the waterfront in elegance because they have a comfortable sitting area and waterproof bags for your phone, camera, money, keys, and other items. The kayaking team is also available and prepared with safety gear, a first aid kit, and a map of the lovely Lake while recommending some of the must-see tourist attractions to explore or just a good place to unwind and enjoy lunch after the experience.
The ideal time for kayaking on Lake Kivu
The greatest times to go kayaking on Lake Kivu are from December to February and June to September because these months are dry and the water levels have dropped, but be ready for unforeseen events like winds and rains. Sunglasses, a safari hat, a backpack, sunscreen, a good camera, binoculars, a rain jacket, any clothing that you do not mind getting wet, and adequate water are some items you will need for this journey.