Birding in Rwanda
Because of the enormous range of bird habitats, Rwanda stands out as a fantastic travel destination. These include hills, rivers, lakes, meadows, enormous swamps, mountains, montane forests, and plains. Of course, there are also mountains. Rwanda has good road systems and clean, safe cities. Compared to Kenya or Tanzania, Rwanda is smaller, making it simpler to travel around the entire nation quickly. There are only about 44 indigenous bird species in Rwanda, all of which are restricted to the Albertine Rift.
While birders can observe birds in Rwanda throughout the year, some months offer ideal conditions. Remember that Rwanda experiences two significant wet and dry seasons. In Rwanda, December and January are regarded as the best months for birding. These months, which are part of the dry season, are notable because migrating birds from all over the world travel during them to avoid the bitter winters in Europe and the Arctic.
Important Birding Areas in Rwanda
Four of Rwanda's national parks, including Nyungwe, Akagera, Gishwati-Mukura, and the Volcanoes National Park, are home to seven significant birding regions. Let us go over these birding locations in detail: –
Kigali City: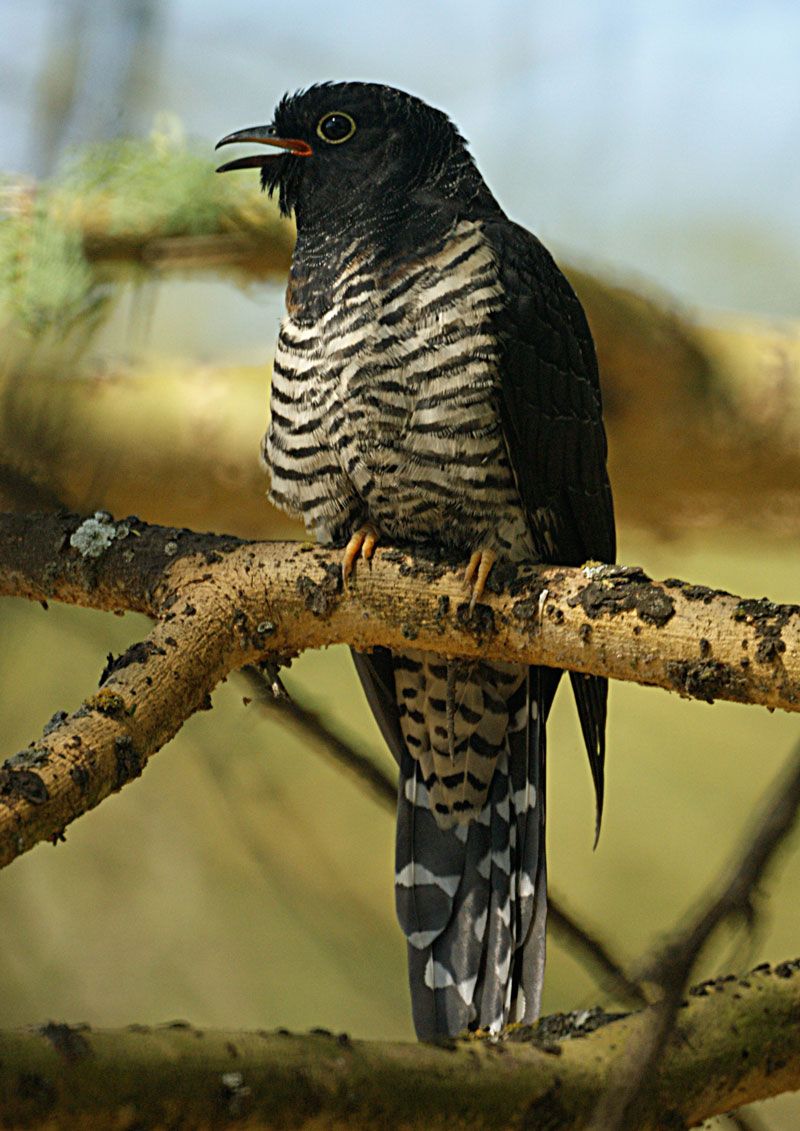 If you don't have enough time to travel outside of Kigali or visit the major national parks, birding in Kigali is a good option. The possibilities for birdwatching in Kigali will amaze you. A better option could be to explore Lake Nyarutarama, which borders Kigali's main golf course, rather than start birding in Kigali from the hotel gardens. This lake includes lovely paths and pathways that are great for observing flying geese, white-faced whistling ducks, black headed herons, and grey-capped warblers. As one leaves the city center, the Rwandan government just constructed a sizable park that is quickly gaining popularity with birders. Additionally, you can see tiny egrets, spur-winged geese, squacco turacos, and yellow-billed storks at the Nyabarongo marsh. In Rwanda, Mount Kigali is a great place to go bird watching. Among the many other birds, you can observe here are southern black flycatchers, African paradise birds, and red-chested cuckoos.
Nyungwe National Park: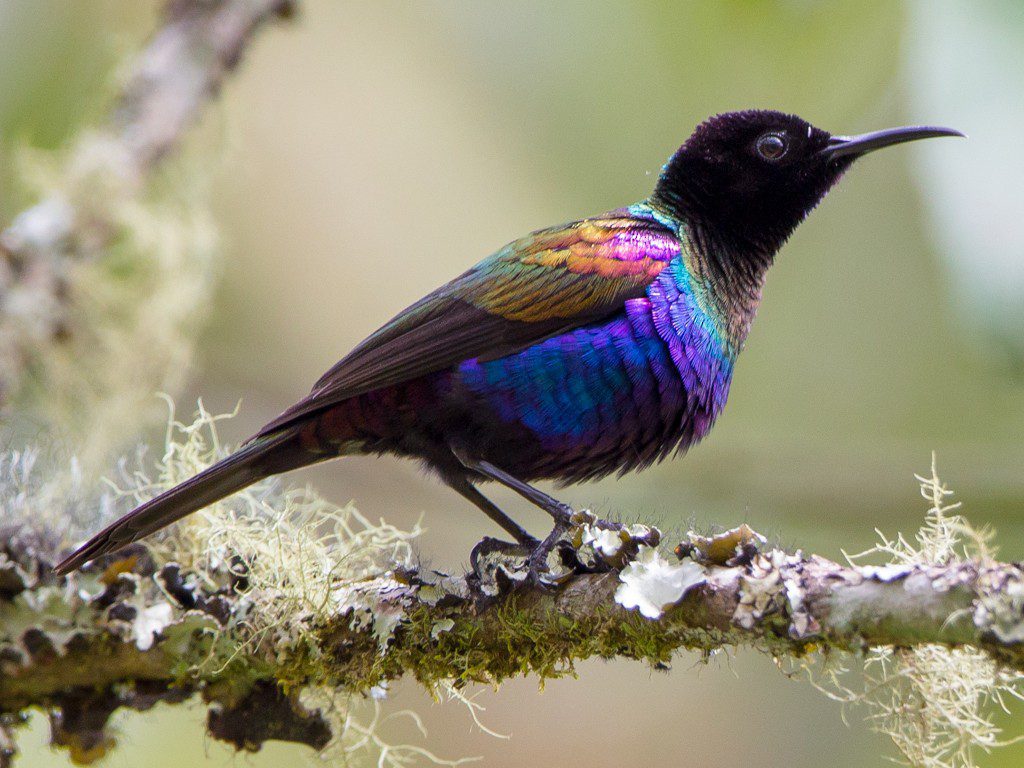 The oldest and largest montane forest in Africa may be found in Nyungwe National Park. The forest is home to around 300 different bird species. One of the best places to watch birds as they feed on tree canopies is on the forest's Bigugu Mountain. Another option is to leave the forest and visit the bird-favored Gisakura tea estate. Perhaps the most well-known and appealing species in Nyungwe National Park is the Red-collared Babbler. The Albertine owlet, Blue-headed sunbird, Handsome Francolin, Handsome spur fowls, Neumann's Warbler, Purple Breasted Sunbirds, Regal Sunbird, Rwenzori Batis, Rwenzori Nightjar, Rwenzori Turaco, and Red collared babblers are among the other species that can be found in Nyungwe Forest. The best way to visit this forest is by using one of the well-maintained forest paths that lead to the various portions of the forest, or by walking or bicycling through the portion of the Congo Nile Trail that passes through the forest. A canopy hike is yet another method to discover the forest and observe the birds. You may get an aerial perspective of the enormous forest and its inhabitants from the 160-meter-long canopy walkway in Nyungwe Forest, which is erected on top of the trees. You can also go to the Kamiranzovu marsh if you have enough time.
Akagera National Park:
The Park is located in the northeastern part of the nation, near to the Tanzanian border. Around Lake Ihema, its islands, marshes, and wetlands are the ideal places to go bird watching. A boat ride on Lake Ihema is a good method to see the species in the park, but early morning and late night birding expeditions are available. Given the abundance of bird activity, the morning sessions are perhaps the most enjoyable. Red-faced barbets are the most prevalent species in the park, but Akagera is also home to the critically endangered papyrus Ganolex. Also noteworthy is the fact that Africa's Akagera National Park is conceivably the ideal location to see the secretive Ring-necked Francolin. You should look out for additional intriguing species like the Carruthers' Cisticola, Grey-crowned Cranes, Northern Brown-throated Weaver, Papyrus Gonolek, White-collared Oliveback, and White-Winged Swamp Warbler during your safari in Akagera National Park. In Akagera, the African Starling may be the most attractive bird. They have amazing feathers that sparkle and change color in the midday sun. One of the joys of a birding trip in Akagera is seeing this bird.
Volcanoes National Park:
Golden monkeys, hiking a volcano like Karisimbi, and gorilla trekking are the attractions that this park is most well known for. The fact that it is one of the top birding locations in Rwanda is unaffected by this, though. The park is home to 200 different species. Sixteen of them are indigenous to the volcanoes in the Virunga mountain ranges, and twenty-seven of them can only be seen in Rwanda. The Archer's ground robin, Cinnamon bracken warbler, Grauer's rush warbler, Rwenzori batis, White-tailed blue-flycatcher, and Black and white manikin are among the species to watch out for. Since the Mgahinga National Park in Uganda and the Virunga National Park in Congo border the Volcanoes National Park, some of the species found in these two countries can be spotted in Rwanda.
Gishwati-Mukura National Park: Located in the northwest of the country, this is Rwanda's newest national park. Gishwati was well known as Rwanda's top birding destination before it was designated a national park, offering 395 different species. Among them are the Martial Eagle, Purple-breasted Sunbirds, Red-throated Alethe, Regal Sunbirds, Ruwenzori Turaco, Strange Weaver, Stripe-breasted Tit, and Grey Crowned Crane. The majority of the species live in forests or are unique to the Albertine Rift. Others travel all the way from the Congo to make their seasonal migration. You can expect to see baboons, chimpanzees, blue and golden monkeys while keeping an eye out for birds. You should visit Gishwati-Mukura National Park during the dry season if you want to see the most birds. There are many challenges during the wet/rainy season, including muddy trails that can be very slick.
Lake Kivu: More people in Rwanda are aware of Lake Kivu for its stunning islands, beaches, and as one of the best locations for sport fishing. It is simple to overlook the Lake's status as a premier birding location. White-breasted Cormorants and Pied Kingfishers are drawn to the lake's natural beauty and its islets. During several months of the year, thousands of migratory birds can be seen feeding near the lake along with the locals. Visit Nkora Island for the whole Lake Kivu birding experience. A small fishing community called Nkora Island is home to an incredible variety of aquatic birds and even cave bats. Additionally, you will meet the local anglers and see how they support themselves.
Requirements for Birding in Rwanda
You should come equipped with top-notch binoculars, pointers, supportive hiking shoes, a birder's book, drinking water, and snacks for the greatest birding experience in Rwanda. Always travel with a knowledgeable local guide who can show you the best birding locations and help you identify the various species. Let us go over these specifications in more detail:
Binoculars: Bird watchers must have binoculars. It is among the most crucial items to consider getting while organizing a birding excursion in Rwanda. The majority of the birds in Africa are shy and will take off if you approach too closely or if you draw any attention to yourself. The fact that humans are or were frequently killed for flesh by human populations in various parts of Africa is one cause of this overwhelming fear of people. Having high-quality binoculars that can be adjusted to provide clearer views is the best way to locate them.
A Camera: An excellent camera is necessary for an enjoyable birding experience. We advise you to purchase the greatest camera you can afford in order to capture stunning images of Rwanda and its stunning birds. You can compare your notes with those in the books and gauge the success of your journey by looking at the images as well.
A Portable voice recorder: The various call signs and noises that birds create can be fascinating. A quality handheld voice recorder is the ideal tool for capturing these noises. When you return to your room and compare notes, this will also assist you in differentiating the various birds.
Birding books: To identify the species you spotted, you will need a book on bird identification. The books are available for purchase at the national park headquarters and other important birding locations. Because it will help you identify the species observed, the book need to contain an exhaustive collection of the birds (together with images) found in the region you intend to visit.
Drinking water and food: On long-lasting birding excursions, you could become dehydrated and worn out. The majority of the birding locations are in remote places without any restaurants or shops. To avoid becoming hungry and thirsty when in the forest, it is advisable to come prepared.
Insect repellant: In environments with an abundance of insects, birds thrive. After all, besides fruits and grains, insects are their primary source of food for birds. Wasps, bees, mosquitoes, and Tsetse flies are some of the insects that have painful stings. Come with a strong insect repellent to keep them away.
Code of Conduct While on A Birding Safari in Rwanda
You must abide by a set of rules and conduct guidelines when in national parks or birding sanctuaries. Respecting birds and the ecosystem they reside in is important.
Do not do any actions that could threaten the birds' safety or disrupt them in any manner. A good birder will never chase or attempt to flush out birds from their hiding places. Let them emerge of their own volition.
Be cautious when photographing birds and, if possible, stay away from using flash, particularly in regions where there are plenty of birds and during the nesting season. To avoid disturbing the birds or putting the chicks in risk, keep a substantial distance away from known nesting colonies. Keep your hands off the eggs unless you are a researcher. If humans touch their eggs, many species will abandon them.
Be mindful of the surroundings in which you find yourself. Do not leave trash in bird shelters. Keep a distance from bird habitats and leave it as you found it. While birdwatching, avoid trespassing on private land without first getting permission. Avoid damaging the reputation of the larger birding community.
Try to learn any special guidelines or rules that apply to a particular birding location. To prevent causing environmental harm or disturbing the birds, move in a manageable, smaller group if possible.
Birding in Uganda
Uganda is renowned for its wonderful climate, wildlife, and hospitable people. The majority of tourists that go on safaris in Uganda mix game viewing, sightseeing, and birding. Although Uganda is regarded as one of the best countries in the world for birding excursions and possibly the best in Africa, bird tourism is not as well developed or advertised as, say, gorilla tourism. In Uganda, there are around 1035 different bird species, and there are about 30 designated birdwatching locations. Every year, a large number of bird lovers are drawn to endemic species such the Stuhlmann's Double-collared Sunbird, the Fox's Weaver, and the magnificent Shoebill Stork. Surprisingly, this little landlocked nation has more birds per square kilometer than any other nation on the continent. This suggests that visitors to Uganda who go birding are rewarded with numerous bird sightings without having to drive far or into the bush. They are actually visible from the Entebbe airport, the city of Kampala, the outside of your hotel room, and wherever else you go. To truly understand how blessed by nature Uganda is, you must visit one of the major birding sites in the nation.
Important Birding Areas in Uganda
One of Uganda's stunning national parks or wildlife reserves is the greatest area to see birds. In order to maintain an exceptional density of bird species, bird sanctuaries are only allowed to exist in these national parks and reserves. It is more satisfying to watch birds while keeping an eye out for other wildlife species because of Uganda's incredible diversity of flora and fauna. Here are some specific birdwatching locations to consider:
Budongo Forest:
The huge Murchison falls National Park, which is one of Uganda's main tourist sites, contains the Budongo forest. Despite being well known for chimpanzee trekking, the forest is also regarded as one of Uganda's top locations for birdwatching. Many different bird species can be found in the forest, including the African Dwarf Kingfisher, African Pied Hornbill, Banded Snake-eagle, Black Bishop, Black-bellied Fire finch, Black-capped Apalis, Brown Twin sport, Brown-backed Scrub-robin, Cameroon Sombre Green bull, Chocolate-backed Kingfisher, Crowned Eagle, Dusky Long-tailed Cuckoo, Fire-crested Alethe, Forest Flycatcherand, among others.
Mabamba Swamp: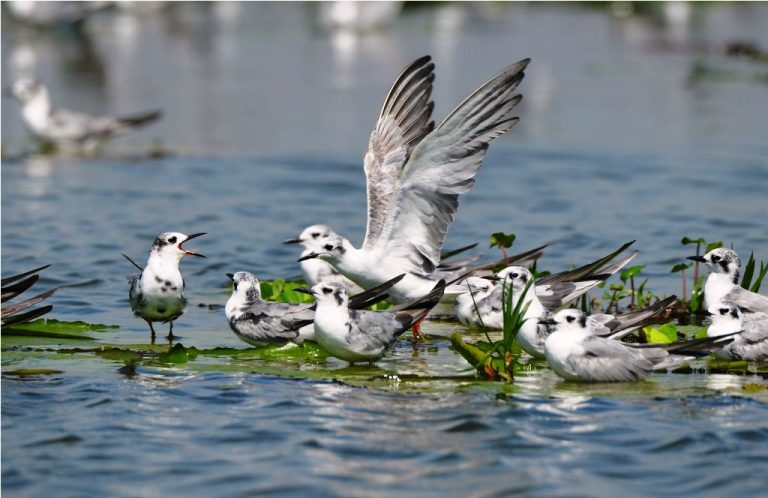 In Uganda, the Mabamba Swamp is a fantastic location for observing birds. The Mabamba Bay Wetland swamp is a habitat to the Black-billed Turaco, Blue-breasted kingfisher, Blue-shouldered Robin-chat, Dusky Long-tailed Cuckoo, Fire-crested Althea, Grey Parrot, Hair-breasted Barbet, Lemon Dove, Olive Green bull, Snowy-headed Robin-chat, Sooty Boubou, Wayne's Weaver, White-spotted Fluff tail and the Woodland Warbler among other species.
Bigodi wetland sanctuary: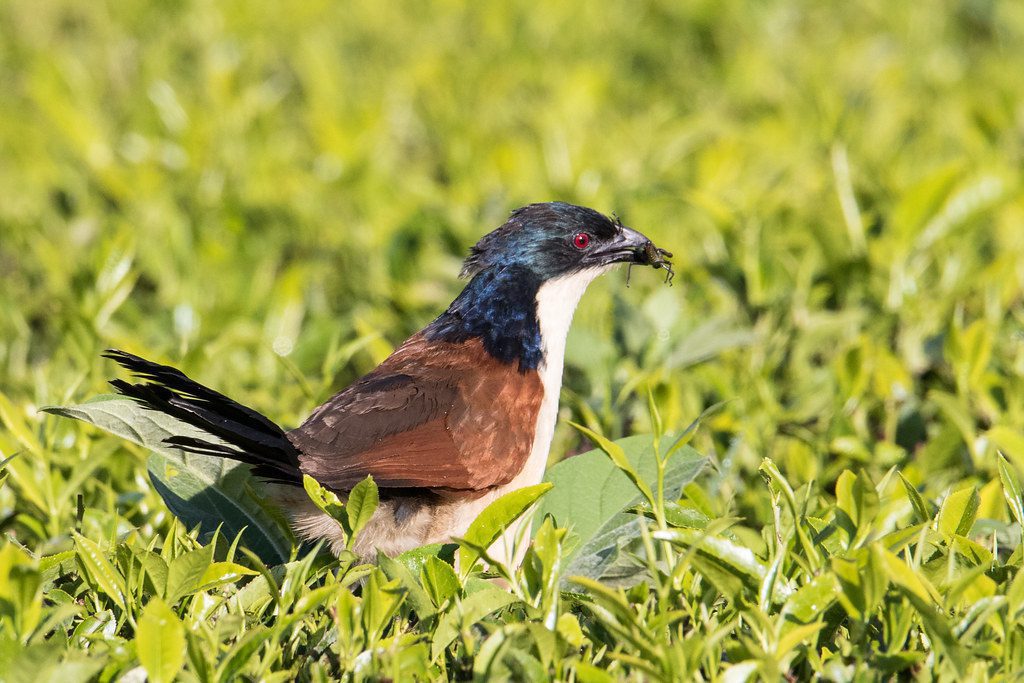 The Black-billed Turaco, Black-faced Rufus Warbler, Blue-breasted Kingfisher, Blue-headed Coucal, Scaly-throated Honey Guide, and White Spotted Crake are just a few of the species that may be found in this enormous bird sanctuary.
Other main birding areas in Uganda include; Mpanga Forest Reserve, Mabira Forest Reserve and the Semuliki National Park.