Murchison Falls National Park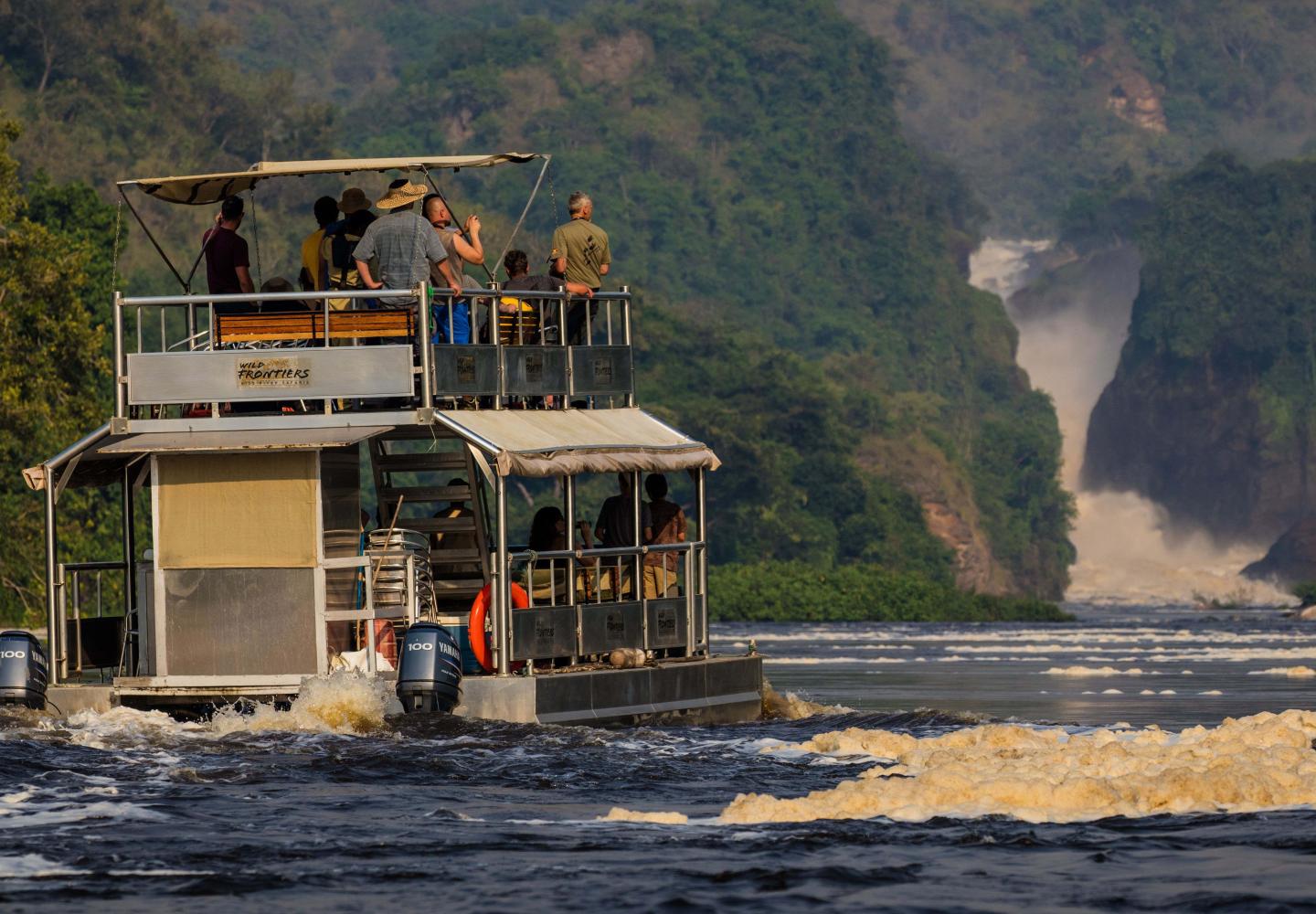 Murchison Falls National Park is located in northern Uganda and is the country's largest national park, encompassing an area of over 4000 kilometers squared. Savannah grasslands, riverine woods, timber, and marshes define the park. Murchison Falls National Park was designated as a national park in 1952 after being gazetted in 1926. The primary tourist attraction of Murchison Falls National Park is Murchison Falls, which gives the park its name and is also known as "the Devil's Cauldron." It's an excellent location for Uganda safaris and trips.
Murchison Falls National Park is Uganda's largest and one of its oldest parks, located in the Albertine Rift districts of Masindi, Buliisa, Nwoya, and Kiryadongo. The park is notable for being home to four of the big five creatures, which include the elephant, lion, buffalo, and leopard. Even if the park does not have enough rhinos to accommodate all five animals, travelers on their way to Murchison Falls National Park can stop by the Ziwa Rhino Sanctuary, which is a safe haven for the country's endangered rhinos.
Murchison Falls National Park provides the greatest adventure tours to its visitors because of the variety of tourist attractions and activities that may suit their various wants and wishes while on their Uganda national parks trip. The park is home to 76 animal species and 400 bird species, making it an ideal location for wildlife enthusiasts. However, it is not just a destination for travelers interested in animal viewing, but also for adventure tourists who may participate in a range of outdoor recreational activities.
How to get to Murchison Falls National Park
Depending on their budget, tourists on a Murchison Falls National area trip will enter the area through air or road conveyance. Tourists traveling by car from Kampala, Uganda's capital city, will take up to 4 hours to reach the park.
Tourists can access the park by booking flights from Entebbe airport or Kajjansi airstrip to Pakuba airfield, which is closest to the park. They can also land at Chobe or Bugundu, all of which can lead to easy access of the park in an hour and a few minutes, which is faster than road transport.
Tourists can enter the park through many gates located in different sections of the park, such as the Chobe gate in the park's northern sector and the Kichumbanyobo gate near Masindi town in the park's southern sector. Tangi gate is located in the Paara district, and in order to enter the gate, travellers must first cross the Nile on the ferry.
The Wankar gate, located 10 kilometers off the main route, and the Mubako gate along the Kampala-Pakwach route, however tourists will be able to reach the park by crossing the River Nile via the Karuma falls bridge. Even before you enter the park, there are numerous eye-catching attractions such as the Nile River, aquatic birds that may be spotted along the river banks, and many more.
Attractions in Murchison Falls National Park
The park will provide guests on their Murchison Falls National Park trip with an unforgettable experience while seeing the various regions and participating in the park's many activities. The following are the places and activities that they may participate in to make their Uganda travels memorable:
Wildlife: The park is made up of various vegetation zones and cover that attract various animal species. For example, it is made up of swamp vegetation along Lake Kyoga, woodland, and savannah, all of which support wildlife. Among the different animal species that can be seen are hippopotamuses, Rothschild's giraffes, warthogs, Cape buffalo, Uganda Kob, Jackson's-hartebeest, elephants, and many more.
The park is also home to over 400 bird species, providing birders with a diverse range of bird species to observe and study in their natural habitats, including the shoe bill, grey Crowned Crested Crane, Giant King Fisher, Goliath Heron, Abyssinian ground hornbill, Nightjars Marabou stork, and many more.
Game drives: Tourists can see a variety of animals by participating in game drives, which are organized in the morning, evening, and night. All of them provide the best experience because tourists can see a variety of animal species. Night game drives, on the other hand, allow tourists to see nocturnal animals like lions while they hunt for prey at night, which is quite different from other game drives because many animals come out of hiding in the area.
Birding: The park is a popular site for bird watchers because to the various bird species (over 400) that can be seen while on Uganda National Parks excursions in Murchison Falls National Park. Water birds such as the African fish eagle, Giant kingfisher, yellow-billed stork, huge cormorant, and many others may be observed. The Budongo woodland is home to a variety of bird species.
Murchison Fall: The Murchison Falls, also known as the Kabalega Falls, are located within the park and give rise to the park's name. The falls provide travelers with a wonderful perspective as they make their way down a tight ravine, generating furious falls that can be viewed presenting the greatest unique vistas. The falls are notable for their location between two lakes, Albert and Kyoga, both of which provide breathtaking vistas.
White water rafting: Adventure tourists will have the opportunity to go white water rafting on Murchison Falls, and because the falls offer rough waters and fast-moving waters, they are ideal for the activity, which involves tourists using an inflatable raft to navigate the White Nile in Murchison Falls National Park, which is another interesting activity to do while in the park.
Wildlife viewing: Tourists on their Murchison falls trip may observe a variety of wildlife along the banks of the river Nile, such as crocodiles sunning, buffalos, elephants' waterbucks, and other creatures quenching their thirst from the waters along the banks.
Water Bodies: The park will pique the interest of travelers embarking on a Uganda national parks trip because it is home to a variety of water features, including Lake Albert, Lake Kyoga, and the Victoria Nile River, all of which can be viewed after the park is visited. The park provides a variety of activities while on the various water bodies, as mentioned below.
Boat cruises : There are two types of boat cruises or launch trips available in the park: the upstream boat cruise, which takes place at the bottom of the waterfalls, which are the most powerful in the country and in the area, and the downstream boat cruise/launch trip to the Victoria Nile delta, which stretches along the shores of Lake Albert. All of the launch trips/boat excursions depart from Paara Jetty at 2:00 p.m. and last only three hours.
Tourists will be able to see a variety of animal species such as hippopotami, elephants, waterbucks, buffaloes, Kobs, Giraffes, and bird species such as the shoe bill, saddle-billed stork, Goliath Heron, and many more on their Murchison Falls National Park tour, which provides breathtaking views and satisfying experiences.
Hiking: Nature walks in the park are beneficial for a tourist on their Murchison falls national park trip because of the many sights that can be viewed after they are done, and this will guarantee that the tourist is able to become fulfilled while on their Uganda national parks tour. Guided nature walks in the park are the most enjoyable since a tourist may obtain thorough information on the areas visited and the things viewed. The park treks last one to two hours and take them through the Kaniyo Pabidi and Rabongo woods, where they may witness various animal and bird species.
Short walks can also be carried out from Sambiya River Lodge or Mubako junction all of which offer amazing experiences.
ACTIVITIES IN MURCHISON FALLS NATIONAL PARK
Other sights that travellers may view while on their Murchison Falls National Park trip that are not located within the park but can be visited while on the tour include:
The Ziwa Rhino Sanctuary was established in 2005 to prevent the extinction of white rhinos in Uganda, which were killed in Kidepo and Murchison Falls National Park during the northern Uganda war, leaving only 6 rhinos in the country. However, thanks to the efforts of the Rhino Fund Uganda, the numbers have increased from 6 to 12 in 2015, and the number of rhinos is now 22 and growing.
The sanctuary not only has Rhinos as the animal species but also other 40 animal species including the antelopes, crocodiles, monkeys, hippopotami and many more and also bird species which attract birders.
Rhino tracking: Tourists are able to see the rhinos closer at a distance of 6 metres which is safe enough for them while they see the different rhinos, their feeding patterns and so on. During rhino tracking, tourists can take photos of rhinos in their natural habitats, and once tourists visit the Sanctuary and Murchison Falls National Park, they can see all five of the big five animals, which are elephants, rhinos, leopards, lions, and buffalo.
Birding: Although rhino tracking is more popular, the sanctuary has a lot of bird species that might fascinate birders, such as Abdim's stork, Blue spotted dove, Abyssinian ground hornbill, booted eagle, wide billed roller, and many others.
Nature walks: Nature hikes may be taken through the sanctuary, where visitors can witness a variety of animal species, including the Oribi, reedbucks, bushbucks, duikers, and others.
Budongo Forest Reserve: Murchison Falls National Park is 47 kilometers from Budongo woodland and can be reached in approximately 30 minutes. The woodland is the largest Mahogany Forest in East Africa. The forest is home to a number of animal species that might entice visitors on their Murchison Falls National Park trip. The forest is home to a variety of bird species as well as chimps, lions, and buffalos, which have drawn travelers on their tours.
Chimpanzee trekking: Budongo forest has over 500 chimps that can be trekked; the activity involves tourists going into the chimps' natural habitats to understand their patterns of living, such as feeding patterns, how they coexist with one another, how they coexist with the forests, and so on, which is quite rewarding once completed.
Birding: The forest is home to a variety of bird species, some of which may be seen nesting in the trees. Sabine's Spinetail, Cassin's Spinetail (rare), Pygmy Crakes, Kingfishers, White-spotted Flufftail, Ituri Batis, Puvell's Illadopsis, Brown Twinspot, Cameroon Sombre Greenbul, Cassin's Hawk-eagle, Crowned Eagle are among the species.
ACCOMMODATION IN MURCHISON FALL NATIONAL PARK
Tourists on their Murchison Falls National Park tour will have the opportunity to choose from various classes of accommodation based on their budget. Each of the accommodation facilities that are chosen, regardless of their class, is capable of ensuring visitor satisfaction with top-notch services such as bar services, dining services, and 24 hour room services that enable quality service delivery.
Budget Accommodation
Murchison backpackers
Saltek forest cottages
Mama Washindi lodge
Grassroots cottages and tours
Mid-range Accommodation
Pakuba Safari Lodge
Budongo eco-lodge
Sambiya River Lodge
Fort Murchison Lodge
Luxury accommodation
Paraa Safari Lodge
Chobe Safari Lodge
Nile safari lodge
Baker's lodge
Tourists on their Murchison Falls National Park tour will have the opportunity to experience nature's best when it comes to visiting National Parks that will offer magnificent views of the popular Murchison Falls, a number of animals including four of the big five, and many more as part of their Uganda tour.
MGAHINGA GORILLA NATIONAL PARK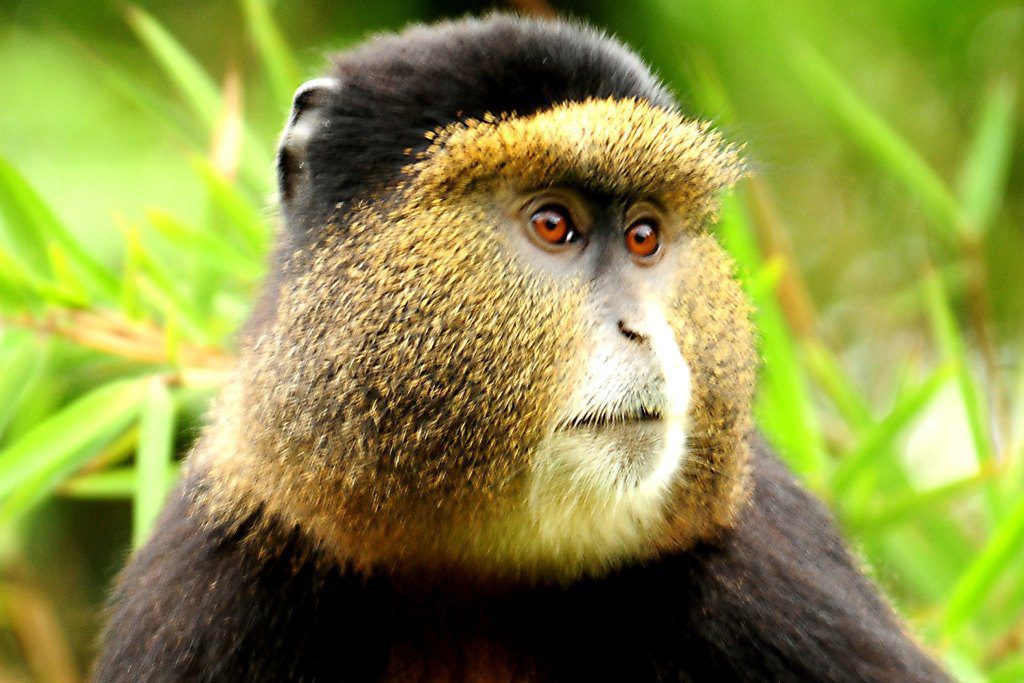 Mgahinga National Park is one of the smallest national parks in Uganda located in the southwestern part of Uganda, Bufumbira County in Kisoro district and borders Volcanoes national park in Rwanda and Virunga National Park in the Democratic Republic of Congo. Mgahinga national park covers about 33.7 square kilometers, lies between the altitude's of 2227 meters and 4127 meters. Mgahinga national park harbors the three Virunga volcanoes namely Mt Muhabura which is 4127 meters high, Mt Gahinga which is 3474 meters high and Mt Sabinyo which is 3645 meters high. Mgahinga national park was gazetted as a national park in 1991 and it was mainly established to protect and conserve the endangered mountain gorillas. Mgahinga national park is a home of various wildlife species including 76 mammal species such as buffaloes, elephants, giant forest hogs, bushbucks, leopards, spotted hyenas, black-fronted duikers, primates such as mountain gorillas, golden monkeys, and 184 bird species among others.
ACTIVITIES DONE IN MGAHINGA NATIONAL PARK
Gorilla trekking, gorilla trekking is an activity where visitors hike or trek in the dense forests in search of the mountain gorillas and it is the most popular activity done in Mgahinga national park. Gorilla trekking activity starts early in the morning at Ntebeko park headquarters where visitors first have a briefing on what to expect before going into the forest with the guide who shows them the trails to use and shares knowledge about the gorillas. Mgahinga national park harbors one habituated gorilla family called Nyakagezi which is composed of 10 members. Gorilla trekking in Mgahinga national park allows a maximum number of 8 people to trek Nyakagezi family every day and should be above 15 years of age and spend one hour with the gorilla family in the natural habitat taking photos, learning more about the gorillas among others. Trekking gorillas in Mgahinga costs $600 for Foreign Non-Residents, $500 for Foreign Residents and UGX 250, 000 for East African residents. The gorilla trekking permit should, however, be booked 4 to 6 months in advance before the trekking date because the permits are competitive and usually get sold out.
Golden monkey trekking, this is a fascinating activity in Mgahinga national park apart from gorilla trekking. Mgahinga national park harbors about 6 habituated golden monkey trekking and allows a maximum of 6 people to trek each habituated golden monkey family and spend one hour in the presence of the family enjoying the golden monkeys in the tress, taking photos, recording videos among others. Golden monkey trekking is best done in the morning where you hike through the bamboo forest and the activity takes about 1 to 4 hours. Golden monkey trekking permits cost $90 for Foreign Non-Residents and Foreign Residents and 20,000 for East African residents. Mgahinga national park is the only park where the golden monkeys live in the forest with the mountain gorillas and is therefore referred to as a national park where gold meets silver.
Mountain climbing, this is the most exciting and adventurous activity in Mgahinga national park. Mgahinga national park harbors the three Virunga volcano mountains namely
Mount Muhavura, the name Muhavura means guide and it is the highest volcanic mountain among the three which stands at 4127 meters high. Mount Muhabura covers about 12km and it takes about 8hours to reach on top where you will use trails via the shrubs, rock grounds, small grasses among others. While on top of Muhavura Mountain you will be able to view the Rwenzori peaks, Virunga volcanoes, Bwindi Forest, Lake Edward in Queen Elizabeth national park which gives you great experiences.
Mount Sabinyo, this volcanic mountain is also translated to mean the old man's teeth because of the deep gorges and riverine that dissect it, Mt Sabinyo is 3645 meters high and is a challenging mountain among the three.  When hiking on Mt Sabinyo, you will pass through the trails filled with mushy vegetation hence needs one to dress up in hiking boots. Hiking Mt Sabinyo takes about 8 hours and on top of the mountain, you will be standing in three countries at the same time that is Uganda, Rwanda and the Democratic Republic of Congo.
Mount Gahinga, the mountain is translated to mean a pile of stones and it is the smallest of the Virunga volcanoes. Mt Gahinga is 3474 meters high and covers 8 kilometres. While hiking, you will pass through the bamboo forest, and on top of Gahinga Mountain, you will experience a swamp filled crater that is 180 meters wide and the stone piles in the gardens. All the three volcanic mountains in Mgahinga national park can be climbed in one day as long as you are in good shape. Climbing the three mountains is rewarding in form of the beautiful views of the bird species, animals like elephants, golden monkeys among others hence making your safari in Uganda memorable.
Bird watching, Mgahinga national park is a great place for birding in that it harbors over 184 bird species. Bird watching in Mgahinga national park is best done in the morning whereby you wake up very early and meet with birding guide and follow trails in the montane and bamboo forest between Mt Sabinyo and Mt Gahinga. During bird watching in Mgahinga national park, you will be able to view different bird species such as Rwenzori Turaco, Rwenzori Batis, Handsome francolin, Kivu ground, Black-headed waxbill, Bronze Sunbird, Brown Crowned Tchagra, Cape robin chat, Western green tinker bird, Brown woodland warbler, Malachite sunbird, Striped breasted tit, White starred robin, Olive pigeon among others.
Nature walks / hiking, this is an interesting activity in Mgahinga national park where visitors walk on foot around the park with the park ranger. Nature walks in Mgahinga national park is done around the edges of the volcanic mountains through the bamboo forests, Rugezi swamp which is a great destination for beautiful views of the agricultural villages, lakes like lake Mutanda where you will be able to view bird species, vegetation type such as afro-montane, montane forest, bamboo montane, woodland, farmland, tree heathers among others. Nature walk in Mgahinga national park provides you with a cool environment for relaxation and refreshment of the mind.
Cultural encounters, this is an activity in Mgahinga national park where the visitors get an opportunity to interact with the local people in the community. During the cultural encounter the visitors will interact with the Batwa or pygmies who lived in the forest many years ago before it was gazette into a national park. The Batwa were the fierce warriors who depended on the forest for food and shelter, they used to hunt small animals, gather fruits and honey, used forest plants for medicine among others. During the Batwa trail experience, they will demonstrate their ways of life through hunting skills, music, dance, storytelling, visit the Garama cave which is a sacred piece of Batwa history in that they used to hide in the cave from the bantu invasion many years ago and also used it at a granary or storage area of the food staffs.
 Attractions in Mgahinga National Park
Wildlife, Mgahinga national park harbors over 76 mammal species including the giant forest hogs, bush pigs, forest buffaloes, elephants, bushbucks, golden cats, black fronted duiker, porcupines, side striped jackals among others though they are difficult to view while in the forest.
Mountain gorillas, Mgahinga national park is a home of one habituated family Nyakagezi which is comprised of 10 members with 4 silverbacks, 2 adult females,2 infants and 2 black backs.
Golden monkeys, Mgahinga national park is the only park in Uganda and Africa where the golden monkeys live in the bamboo forest together with the mountain gorillas. Birds, Mgahinga national park is a home of over 184 bird species such as grey capped warbler, wax bill, yellow vented bulbul, double collared sunbird, Rwenzori nightjar, Rwenzori batis, Rwenzori turaco, black kite, fire finch among others.
Virunga volcanoes, Mgahinga national park is a home of the three Virunga volcanoes namely Mt Muhabura, Mt Gahinga, and Mt Sabinyo which provide great experiences to visitors who enjoy hiking and beautiful scenic views while at the top.
Golden Monkey Trekking Mgahinga National Park
How to get to Mgahinga National Park
Mgahinga national park is located in southwestern Uganda and can be accessed by both air and road transport.
Road transport
When you are going to Mgahinga national park using a private vehicle, you will drive from Kampala via Masaka, Mbarara, Kabale, Kisoro and then to the park. The whole journey takes about 10 hours' drive. Mgahinga national park can also be accessed from Rwanda-Kigali in that you can fly to Kigali international airport and then connect by road to Mgahinga national park via the Cyanika border which takes about 3 to 4 hours' drive.
There are also public means of transport where you can board a bus which leaves Kampala at 7:00am to Kisoro town where you will hire a private vehicle to the park headquarters which takes about 14kilometres from Kisoro to Mgahinga national park.
 Air transport
Mgahinga national park can also be accessed by Air transport means where you can book chartered flights from Entebbe Airport or Kajjansi Airfield to Kisoro Airstrip.
 When to visit Mgahinga National Park
Mgahinga national park can be visited anytime throughout the year and it experiences two rainy seasons that is from March to May and September to November and two dry seasons in the months of June to August and December to February hence the best time to visit is during the dry season when there is little rainfall in the forest. Activities like gorilla trekking, golden monkey trekking and hiking are best done in the dry season when the ground is dry and not slippery.
RWENZORI MOUNTAINS NATIONAL PARK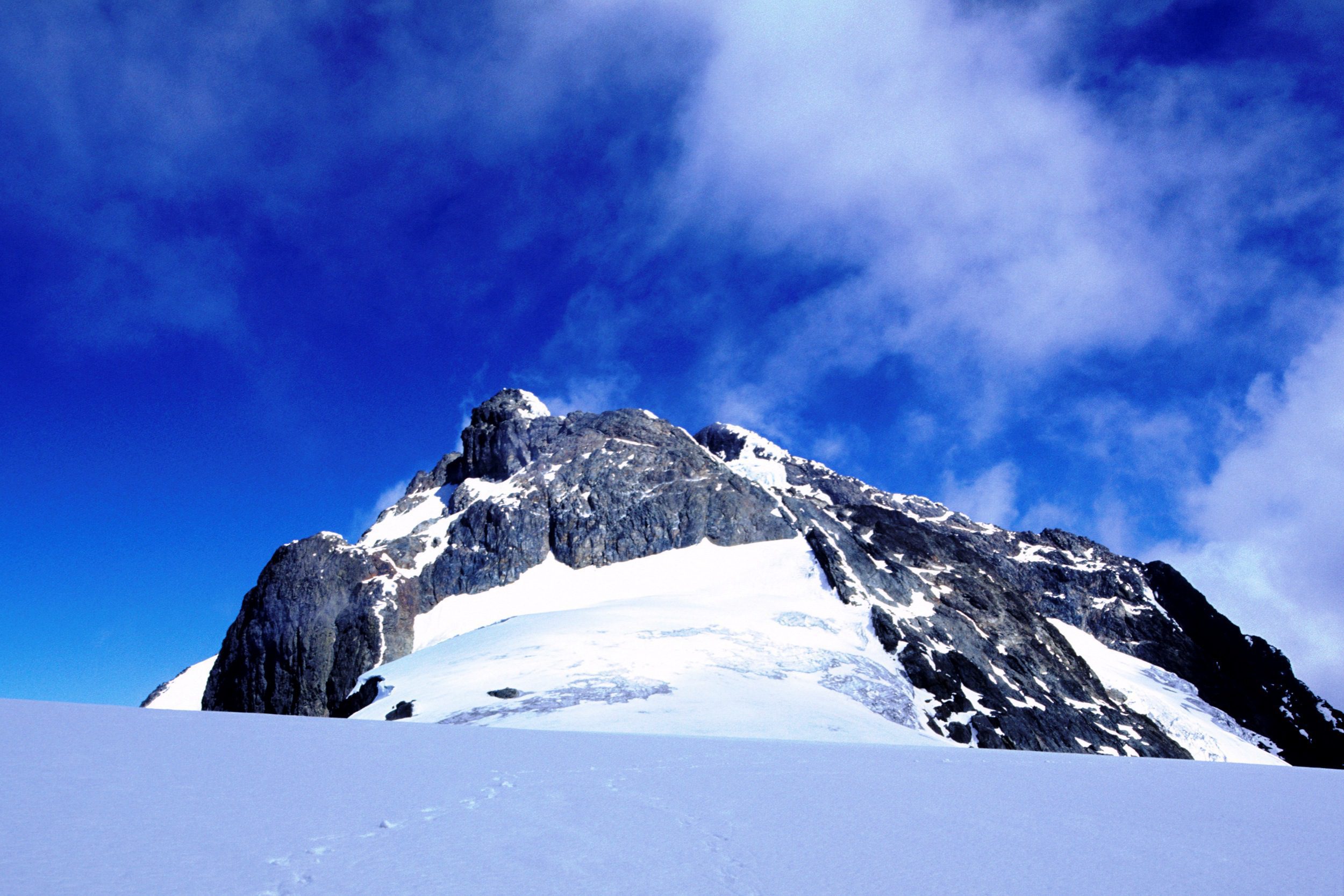 Rwenzori Mountains National Park: Mount Rwenzori is situated in Kasese district in the western part of Uganda bordering Congo. The mountains have also been known as "mountains of the moon". The mountain rises at an elevation of 5110 meters above sea level. Mount Ruwenzori is the third highest mountain in Africa after mount Kilimanjaro and mount Kenya, with Africa's third, forth and highest peaks. Mount Rwenzori is the hardest to climb of all African mountains and it will therefore require physical fitness.
Rwenzori Mountains National Park
Mount Ruwenzori was gazetted as a national park in 1991 and it was declared by UNESCO as a world heritage and Ramsar site in 1994. The park covers an area of about 996 kilometers squared. Mount Ruwenzori is characterized by blue lakes, snow fields, alpine highland glaciers, dense montane and bamboo forests, heath, moorland, groundsels, Lobelias and Hagenia. Mount Ruwenzori melt water represent the highest springs of the Nile which is the world's longest river, in 150 AD Claudius Ptolemy claimed the snow peaked mountains to be the source of the mighty Nile. This mountain is a must visit when you go on Uganda safari holidays.
Mountain climbing
Mountain climbing is the main tourist's activity in mount Ruwenzori national park, the mountain provides stunning views said to be one of the most spectacular on earth. Day hikes can also be organized for those who don't want to reach the mountain peaks. Mount Ruwenzori is very challenging therefore you must be in good shape to take a 7 – 9 day journey to the top.
Wildlife
The Ruwenzori Mountain slopes are filled with various wildlife species making 18 species of mammals, 6 species of amphibians and 9 species of reptiles. Some of the animals seen at the Ruwenzori mountains include elephants, leopards, bush bucks, giant forest hogs, bush bucks and many more. There are also various primate species in the Ruwenzori mountains like blue monkeys, olive baboons, black and white Columbus monkeys, red tailed monkeys, chimpanzees and many more.
Birds
Ruwenzori mountains national park boasts with 217 species of birds. Some of the birds in Ruwenzori mountains are the Ruwenzori collared birds, Queens turaco, Shelley's crimson wing, dwarf honeyguide, red faced woodland warbler, Kivu ground thrush, strange weaver, barred long tailed cuckoo, purple breasted sunbirds, collared apalis and montane masked to mention a few.
Cultural experience
For a feel of African authentic culture, tourists can explore the neighboring Bakonjo villages at the mountain slopes and learn about people's ways of lives and how they have adapted staying at this mountain slopes for years. Nature guided walks can also be organized and the local traditional dancers can perform their traditional dances. Tourists visiting Ruwenzori mountains national park can sleep in Equator snow lodges, Ruboni community camp, Hotel Margherita, Ruwenzori international hotel, Katara lodge and many others. Mount Ruwenzori national park can be reached from Kampala within 5-6 hours however tourists can fly in to Kasese airfield from Entebbe international airport or Kajjansi airfield.
KIDEPO VALLEY NATIONAL PARK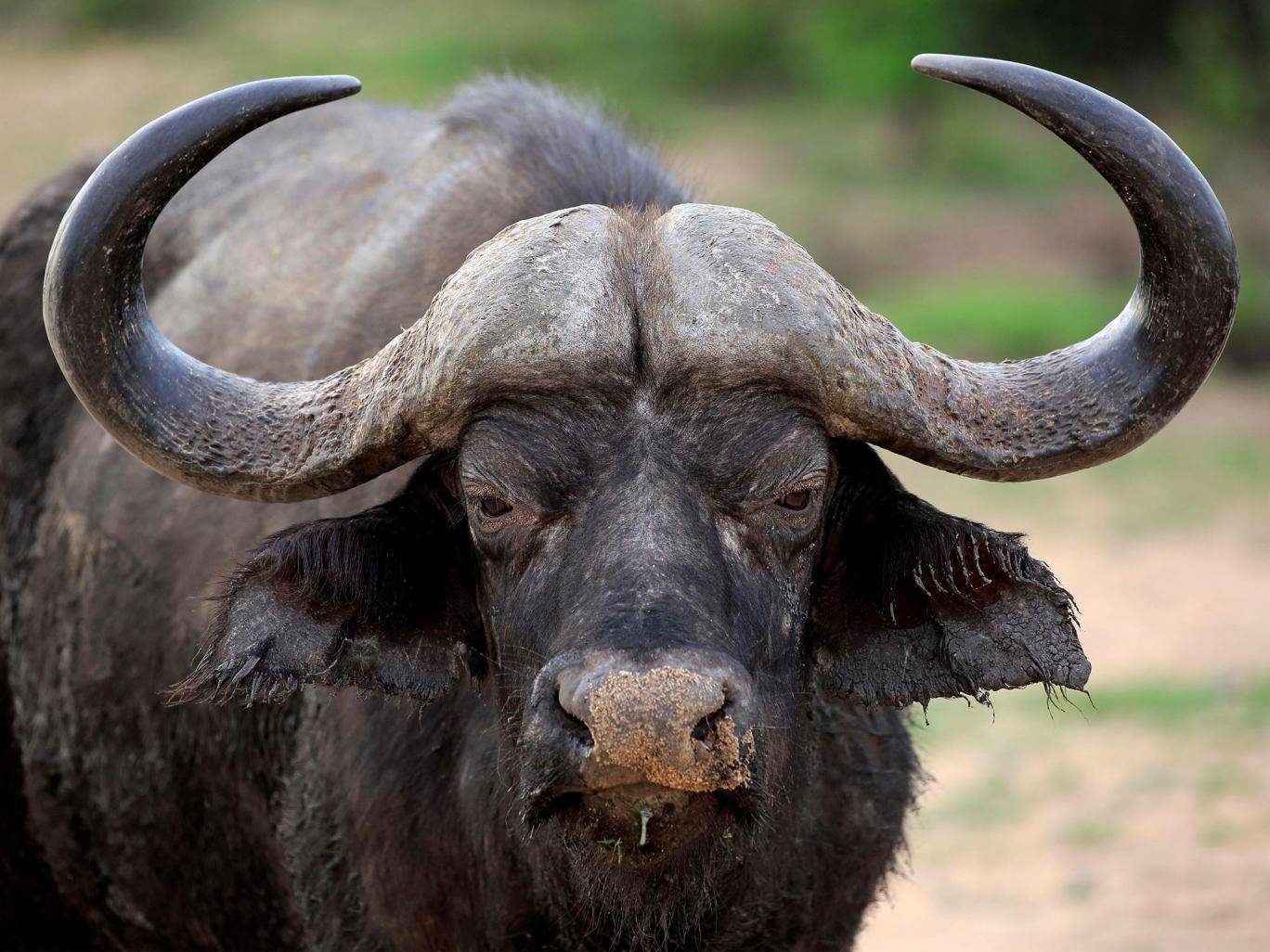 Kidepo Valley National Park is found in the far North Eastern part of Uganda, Kaabong District. The park covers an area of 1,442 km2 (557 sq mi) with rugged Savannah, dominated by Mt. Morungole (9,020 ft) and drained by Kidepo and Narus rivers. This Uganda national park is approximately 220km (140 mi), by road northwest of Moroto, the largest town in the sub region. Also 520km (320 mi), by road, northeast of Kampala, Uganda's capital. This is one of the best but least visited Uganda safari parks.
Kidepo Valley National Park
"Dodoth pastoralists" and "IK farmers" lived in the valley before it was gazetted by the" British colonial masters" as a game reserve in 1958. Its main aim In this was to control hunting, poaching and to clear the bush to combat "Tsetse flies" from spreading sleeping sickness to humans and Nangana to animals. In 1962 during "Dr. Apollo Milton Obote, the game reserve was officially declared as a national park under the headship of Ian Ross as the first Chief Warden," Ian Ross was later replaced by Paul Ssali in 1972.
The park has got two major valley systems that are Kidepo and Narus rivers. The valley basins lie between 3,000ft and 4,000ft respectively.  Kanangarok hot spring in the far north of the park, next to Uganda-Sudan border is the permanent source of water in the Kidepo Valley National Park. Most parts of the park are covered by Savannah trees because of the variation in rainfall amounts hence resulting in animal population variations in the park in areas of Narus with heavy rainfall amounts in the rainy season and Kidepo basin with few animal populations because of little rainfall received.
During the dry season, the only permanent water is found in wetlands in the Narus valley near Apoka with combined Oases along the Savannah terrain making a prominent spot for game tracking and viewing in the game park. This is one of Uganda's most isolated parks because of its far away from most of Uganda's developed places as well as located 520km away from Uganda's capital Kampala. The park offers a magnificent and memorable journey to the Northeastern Uganda through the Karamoja region learning about cultures, historical backgrounds and exploring of African wilderness.
The park is home to more than 77 mammal species and 475 bird species. The park boasts of having the highest buffalo population in Uganda, the only park with Cheetahs in Uganda. Pian-Upe is a neighboring game reserve to the park which is the only home to Ostriches (Largest bird on Earth) in Uganda. Kidepo valley is a home to One of the smallest ethnic groups in Africa called "The Karamajongs" who're Nomadic pastoralists, the Karamajongs are similar to Turkanas of Kenya and Maasai people in Kenya and Tanzania who have got great value for keeping large herds of Cattle. These people have a unique culture which they have preserved for centuries. Amongst the Karamajongs, we find the "Ik farmers" who are regarded to be primitive and they're believed to have originated from Ethiopia many years ago.
The "Ik people" still pray to "ancient god" and believe that someday will have to migrate away from Kidepo valley to another place in the world. According to researcher "Terrill Schrock" who is a linguistic worker says that the "Ik people" have cultural evidence which links them to ancient Southern Egypt. Kidepo valley national park is blessed with abundant animal species ranging to 77 mammal species which include Lions (even some tree climbing lions), elephants, buffaloes, oribi, hartebeests, antelope species like hohor reed buck, defassa waterbucks, elands, bush bucks, bush duskier, ostriches (also in Pian- Upe), pangolins, caracals, leopards, cheetahs, bat eared fox, stripped hyenas, aardwolves, wild dogs and hunting dogs.
The park has also got great sceneries and birding experiences, the southern Narus is the beginning of the amazing birder's haven, birds like Hoopoe, Nubian woodpeckers, vinaceous doves, scarlet-chested sunbirds, mosque swallow, superb starlings, little weaver, singing bush larks, Abyssinian ground, Karamoja Apalis, Ethiopian swallow, African grey flycatcher, White billed tit, Slate colored Boubou, Red billed ox pecker and many more other bird species in Uganda.  The Kidepo valley boasts of having over 475 bird species making it the second amongst the national parks with high bird population densities in Uganda after Queen Elizabeth national park which has over 600 bird species.
The best time for having an awesome trip to Kidepo is in the Mid end of the dry season (November and February) when animals concentrate on reliable water sources like Kanangarok hot springs in the far north of the park supplies water to the park in the dry season, during the wet season (April and August) animals move to higher grounds where they aren't easy to track.
Kidepo valley is a beautiful savanna park which guarantees value for an adventure and it makes no sense for a tourist to spend only a single night in the hidden gems of sub-Saharan park of Uganda.
A variety of parks are found in the Kidepo valley which offer a tourist a worthwhile stay in park like Kidepo Savannah lodge, Apoka safari lodge, Apoka rest camp (the rest camp may not provide local food but you need to book in advance), Kakine self-catering campsite (doesn't provide food), accommodation outside the park include Nga Moru wilderness camp.
Kidepo Valley National Park is a true home of Adventure in Africa; it is rated among st the best 8 travel destinations in Africa by the CNN Traveler's journal because of its diversity. The park is Africa uncovered, untouched, unforgettable, unspoiled Africa and is situated in remote with no urban infrastructure in the region.
This gives a true definition ancient human organization in local communities; the Karamajongs live in small huts in a one fencing called "Manyattas" which is a similar culture to the Masai people of Kenya and Tanzania. Kidepo Valley is accessible by both air and road transport, it is expensive to fly to the park though it is most convenient and time efficient travel style with the great aerial view of the park's topography. By road, the park is accessed by tarmac road network and it depends the number of days will be spent on the tour. You're assured of the scenery view meeting with the richness of the African cultures, savannah grasslands, the shrubs.
QUEEN ELIZABETH NATIONAL PARK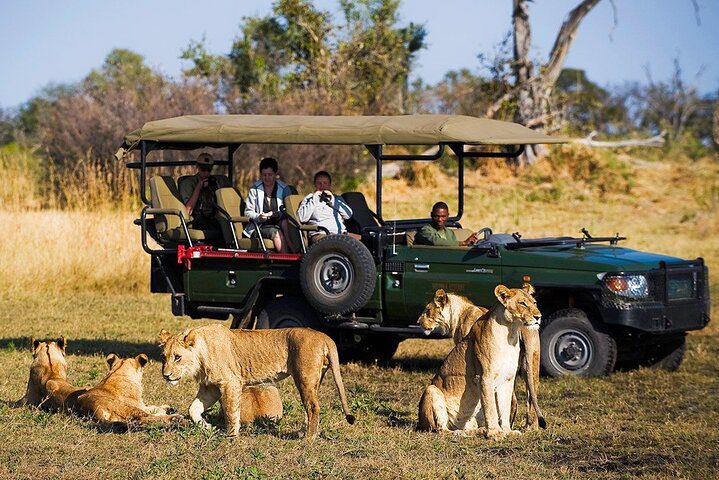 Queen Elizabeth national park is Uganda's most famous national park situated in the western part of the country with large variety of terrain including volcanic craters, acacia woodlands, savannah grasslands, swamps and tropical forests. Queen Elizabeth national park was established in 1952 as Kazinga channel national park but to commemorate the Queen of England's visit in the country the parks name was changed to Queen Elizabeth in 1954, Queen Elizabeth is located in the western region of Uganda it's surrounded by Kamwenge, Kasese, Rukingiri and Rubirizi districts. Its a great place for Uganda safari tours.
The park is approximately 400 kilometers by road south-west of Kampala the capital city of Uganda. Rubirizi is located outside the park's southeastern boundaries and Kasese town is located in the northeastern part of the park, the park includes Maramagambo forest which borders Kigezi Game Reserve, Kibale Forest National Park and Kyambura game reserve, Virunga National Park.
Queen Elizabeth National Park extends from Lake Edward, Lake George, Kazinga channel on an estimated square Kilometer of 1978 part of this includes the Kazinga Channel which connects with the two lakes. Queen Elizabeth National Park is a wildlife hub which includes African Leopard, lion, Chimpanzees, Buffaloes, Nile Crocodiles, Kobs, Hippopotamus, Leopard, Elephants. The Park is a home to 95 mammal and about 500 bird species. The park around the Ishasha in Rukungiri is one of the famous trees climbing lions in the world. The park is adjacent to Virunga National Park, very considered potential lion stronghold in the central Africa.
Queen Elizabeth National Park has a number of volcanic features which includes the Volcanic cones, Crate lakes, deep craters and many more. Queen Elizabeth national park harbors various wildlife species found in most national parks in the country its mostly famous for the tree climbing lions that can only be seen in Lake Manyara national park in Tanzania. The well-established gaming tracks can expose tourists to wildlife such as Leopards, buffalos, elephants, Bush bucks, Ugandan Kob, waterbucks, bush pigs, reedbucks, warthogs, hippopotamus and so much more.
Queen Elizabeth national park is the only park in Uganda where tourists can enjoy viewing wildlife on air, though its expensive the reward is worth tourists can spot the whole flora and fauna and have clear views of predators catching prey. This always takes place very early in the morning and the safari ends with a bush breakfast and a certificate.
The magical natural Kazinga channel found in Mweya sector of Queen Elizabeth connects Lake George and Lake Albert. The channel is an ideal place for wildlife viewing especially during the dry season when the animals are concentrated on its shores. There are also various water birds to be seen while on the Kazinga channel boat ride with hundreds of hippopotamus and crocodiles to be seen close to your boat.
Queen Elizabeth national park is a birders paradise where bird enthusiasts can spot some of the 600 species of birds living in the park. During November tourists can spot some migratory birds from north Africa and Europe, some of the birds at queen Elizabeth national park are; black rumped button quail, white tailed lark, black bee eater, white winged warbler, papyrus gonolek, lesser and greater flamingoes, Chaplin's flycatchers, African skimmer, corncrake, verreaux eagle owl, bar tailed Godwit, pink backed pelican and African broadbill to mention a few.
Chimpanzee trekking in Queen Elizabeth National Park can be done at the magical Kyambura gorge, the gorge is a stunning underground forest bordered by the Great Rift Valley escapements. A part from chimpanzees' tourists can identify various bird species and other primates like the olive baboons, black and white colobus monkeys, vervet monkeys, grey cheeked mangabeys and red tailed among the rest. There are also various types of trees and many species of butterflies.
Queen Elizabeth National Park tour is one of the exciting tours a tourist will participate in while they are on their Uganda tour. The park is located in the districts of Kasese, Kamwenge, Rubirizi and Rukungiri in the western part of Uganda. The park has attracted many tourists to visit it year in and years out because of the magnificent views and attractions that are situated within.
A tourist interested in exploring nature at its best, Queen Elizabeth is the park to choose because it not only offers wildlife experiences but also outdoors experiences, cultural encounters and many activities which are designed to ensure tourist satisfaction. With years passing, the park has attracted many tourists because of the variety of flora and fauna which is quite unique and exciting t
 How to access Queen Elizabeth National Park
Queen Elizabeth national park can easily be accessed by tourists because of the good transport networks and systems within the area. Depending on the tourist's budget, they can either choose air or road transport to reach the park.
The park is 410 kilometers away from Kampala city and for tourists that have landed at Entebbe International Airport, Queen Elizabeth the distance from Entebbe to Kampala is 49 kilometers which will take the tourist about an hour to reach the city. The park from Kampala is accessed through the Mbarara-Masaka highway on the high way tourists can make different stopovers which makes the trip to Queen Elizabeth National Park memorable stopovers at the equator in Masaka, Mpambire drum makers. Tourists that have visited Bwindi impenetrable national park can also connect to Queen Elizabeth national park through the ishasha sector which can take about 7 to 8 hours for tourists to reach the park.
By air, tourists can visit the park by booking charter flights from Entebbe to Queen Elizabeth where Aero link offers daily domestic flights to the park this land at the Mweya and Kasese airstrips which is quite safe, reliable and easy for tourists to use.
ATTRACTIONS IN QUEEN ELIZABETH NATIONAL PARK
Carrying out the Uganda national parks tour will be the most rewarding when tourist's carryout their Queen Elizabeth national park tour because the park is a home to over 95 mammal species, 20 bird species and for the bird lovers, the park has over 600 bird species which makes it a top destination for bird lovers and it is not only tourists interested in seeing the animal species that will be attracted to the park. The park has a variety of many other attraction s and many activities that can be engaged in as explained below;
Flora and Fauna: Queen Elizabeth National Park is covered by different vegetation zones which include the tropical rain forest, savannah grasslands, bushy grassland, acacia trees, swamp vegetations and many more all of which act as habitats to the different animal and bird species not forgetting the butterflies for butterfly enthusiasts the availability of the habitats has enabled reproduction and feeding of the animals and bird species.
Tree climbing lions: The most interesting encounters that a tourist can come across is the tree climbing lions which are found in the ishasha sector which has a number of relief features like the ishasha river, Lake Edward which offer memorable experiences once the tourists  have visited in the sector but eye catching about the sector is the tree climbing lions which are believed to climb up the trees in order to locate their prey and once they are able to see the prey they come down and chase after them and if they are lucky enough they can catch.
Another reason for the lions to climb the trees is to get shed from the scotching sun in the park and also trying to escape insect bites and so on which is an unusual behaviour in lions but for tourists interested in seeing the creatures then Queen Elizabeth is the only park and place where the animals can be seen.
Maramagambo forest: Queen Elizabeth national park is truly gifted by nature with the many tourist attractions including the forest which is a tourist's paradise once visited. The forest is a habitat to a number a number of wildlife species like the primate species like the L'hoest's monkeys, red tailed monkeys, black and white colobus monkeys, red tailed monkeys and many more that can attract tourists. The forest is bordered by two lakes that offer beautiful scenic views and cool breezes to tourists while they visit them.
Bird species: Bird lover will find Queen Elizabeth quite interesting and rewarding because of the numerous bird species that can be found in the park some of the bird species that are seen in the park are endemic to the albertine rift and others are migratory bird species in the park. The bird species in the park are usually seen in Ishasha sector which is the best point for bird watching and the Maramagambo forest where a number of migratory and endemic species can be seen.
 Butterfly species: The park is a haven to many wildlife species which is quite rewarding for tourists that are interesting in seeing a variety of wildlife species other than one attraction. In the park, a number of butterfly species can be seen while carrying out nature walks in Kyambura and also in Maramagambo forest With a number of flora and fauna tourists on their Ugandan tour, carrying out a Queen Elizabeth  National Park tour will have a chance to participate in the different activities as explained below;
Game drives: Game drives in Queen Elizabeth National Park are one of the most rewarding activities that tourists can choose to engage in while on their because the tourists are guaranteed to see different animal species in the park for instance a tourist if lucky can have a chance to see lions preying on antelopes, herbivores like the zebras, antelopes, Uganda Kobs among others can be seen feeding in the savannah grasslands a tourist can also see 4 of the big five animals in the park that including the lions, leopards, the buffalo and the elephants which can be seen.
In the park, a tourist will have a chance to choose from the different game drives available for instance the morning game drives, the evening and the night game drives where nocturnal animals like the lions, leopards which are hard to see during the day but during the night game drives, a tourists can see them as they hunt for their prey.
The lion tracking experience: The lion tracking experience which is done during the morning and late in the afternoon is another interesting activity a tourist will engage in during their Uganda national parks tour. The activity involves tourists learning more about the predators in their natural habitats.
The tourist is guaranteed to see a given pride of lions with the help of the radio collars that are found within the lions, the experience is spear headed by a Uganda carnivore's project researcher who leads a limited number of tourists into the savannah plains where the lions can be found. It is therefore advisable for tourists to book in advance in order not to miss out on the activity.
The activity will enable tourists to distinguish between the males and female lions with their physical appearances for example the male has a black mane whereas the females have no manes. A tourist will be able to see how the lions mark their territories in the park for instance a dominant male in a given pride goes on urinating on the different tree stems to mark their territories as a way of informing another pride that would take over their territory.
Other ways of marking their territories is by the males digging a 20 cm hole by using the hind feet which will clearly be visible to other prides of lions that the territory is taken by another pride. The males can also be seen rubbing their manes on shrubs.
Birding : Birding in Queen Elizabeth is quite an interesting activity in the park because a number of bird species can be seen during the activity some of which are endemic and migratory which can be seen in different area in the park that is Kasenyi Area  bird species like Griffon Vulture, Lappet faced Vulture, Brown Snake Eagle, Wahlberg's Eagle, Bateleur, Long-created Eagle, Martial Eagle, Grey Kestrel, African Crake, Black-bellied Bustard Temminck's Courser, African Wattled Plover Crowned Plover Senegal Plove Hooded Vulture, African White-backed Vulture.
Queen Elizabeth National Park

The Mweya Peninsula is also another area in the park where birding can be carried out in the park which is the area between the Kazinga Channel and Lake Edward.  In the area, tourists are able to see bird species like; Raptors, African Mourning Dove, Diederik Cuckoo, Squire-tailed Nightjar, Slender-tailed Nightjar, Swamp Nightjar, Blue-naped Mousebird, Grey-Headed Kingfisher, Pygmy Kingfisher, Little Bee-eater, Nubian Woodpecker
Other sectors where numerous bird species can be seen in the park include the Ishasha sector where the shoe bill can be seen, lake Kirongo sector which is he extension of Lake George where different water birds can be seen such as; Common Squacco Heron Saddle-billed Stork Shoebill, Sacred Ibis, Knob-billed Duck, Black Crake, African Jacana, Yellow Wagtail, Katunguru sector where also tourists can see different bird species which are able to ensure satisfaction of the tourists.
Kyambura Gorge: The gorge is situated in the eastern part of the park and it is also known as the valley of apes because it is the only area where the primates can be seen in the park. A visit to the gorge will offer memorable experiences to the tourists which will leave them wanting more.
Tourists on their Queen Elizabeth national park tour will have a chance to see different primate species in the area, for instance, red tailed monkeys, olive baboons, white colobus monkeys, red Columbus monkeys and the chimpanzees which are the most common in the valley/ kyambura gorge. At the steep slopes of the valley, a number of bird species can be seen like the greater and lesser flamingos, African skimmer, papyrus canary white tailed lark papyrus gonolek vereux eagle owl lesser, shoebill chapins fly catcher all of which once seen will enhance your experience at the park.
Chimpanzee trekking: Chimpanzee trekking in the park can only be carried out at kyambura gorge with the presence of habituated chimpanzees in the area. The activity is rewarding because the chimpanzees are used to human presence, therefore, they will be able to carry out their daily activities even in the presence of the tourists who will see their feeding patterns, grooming patterns which is usually done by females who check for ticks in their young one's fur.
The valley is also perfect for nature walks with the presence of the underground rainforest which protects the tourists from the sunlight. The different trails in the in the gorge are able to open a new world to the tourists while carrying out the nature walks, they will discover hidden attractions within the gorge like the rivers and many more all of which offer beautiful views.
Kazinga Channel: The 40-metre channel adjoining lake George and Edward is another attraction that can attract a tourist while on their tour because it is a home to a number of animals mainly the buffalos, elephants, the Uganda Kobs etc many reptiles like the Nile lizards, crocodiles and many more and bird species that flock the channel all year round. The tourists can have a closer look at the animals during the boat cruises on the channel.
Boat cruises: Tourists on their tour during the different boat cruises will be able to see different water birds like the great cormorant, little grebe, northern lapwing, red-necked grebe, wandering albatross, pied king fishers which are usually seen trying to catch fish and many more different animal species can be seen during the cruises like the Nile crocodiles can be seen sunbathing along the shores, hippopotamuses taking dips in the waters and many others.
Queens Pavilion: The queen's pavilion is another attraction that a tourist should not miss out on seeing while on their queen Elizabeth national park tour. It was established when the Queen of the United Kingdom, Queen Elizabeth 11 was visiting the park in 1959 and it was also visited by the Duke of Edinburgh in 2007. The pavilion has undergone, many changes including establishing a coffee shop and many more facilities. It is a great spot for tourists to take pictures while in the park because of the history attached to it.
Photography and filming: Tourists interested in capturing and filming the different memories while in the park, while on the Uganda national park tour tourists in Bwindi impenetrable National park can also carryout filming as an activity for instance they can film the different herds of elephants, bushbucks, kobs, waterbucks while in their natural habitats and this can be a memorable experience on their Uganda tour.
ACCOMMODATION IN QUEEN ELIZABETH NATIONAL PARK
Tourists on their Uganda National Parks tour will have a chance to choose from the different classes and varieties of accommodation depending on their budget. Each of the accommodation facilities that are chosen regardless of their is focused on meeting the expectations of the tourists hence leading to visitor satisfaction with top notch services like bar services, dining services, 24-hour room services which enable quality service delivery.
Budget accommodation facilities
Wild tracks overland camp
The elephant home
Simba safari camp
Tembo safari lodge
Engiri game lodge and campsite
Midrange accommodation facilities
Buffalo safari lodge
Marafiki safari lodge
Luxury accommodation facilities
Mweya safari lodge
Elephants' plains lodge
Engazi game lodge
Unlock nature's secrets by visiting queen Elizabeth national park while on your Ugandan tour and you won't be disappointed.
LAKE MBURO NATIONAL PARK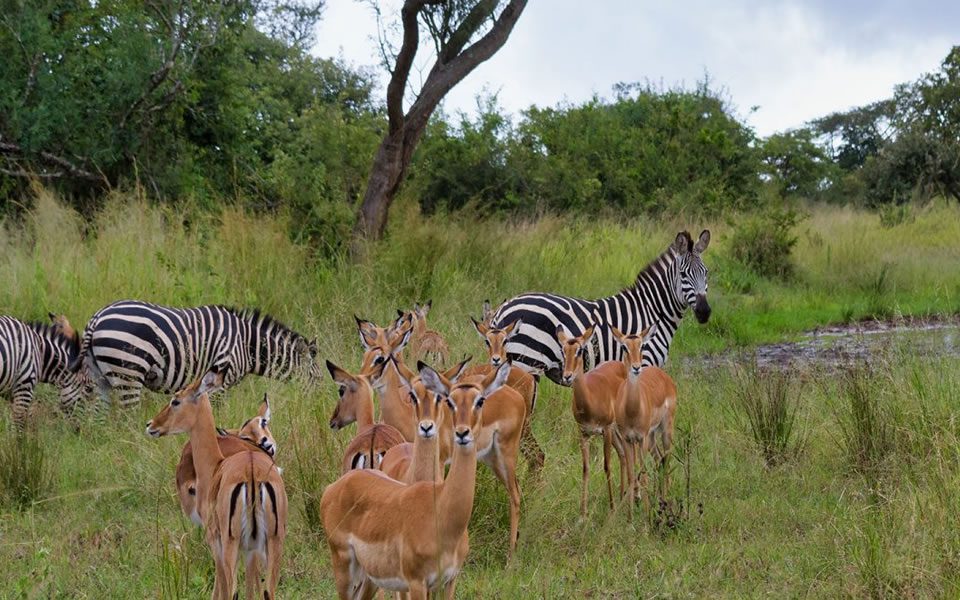 Lake Mburo National Park is found in Kiruhura District in Western parts of Uganda, the park is about 30 kilometres (19 mi) by road, East of Mbarara the largest town in the region. The park is also approximately 240 kilometers (150 mi) by road, west of Kampala (Uganda's capital and largest city). The park's coordinates are 00˚37'40"S and 30˚58'00"E and also part of the Ramsar wetland system known as the Lake Mburo – Nakivale wetland system (Designated 15th/Sept/2006), the park also lies within the Shadow of Lake Victoria and the Mt. Its an awesome place for wildlife safaris in Uganda.
Lake Mburo was originally gazetted in 1933 as a controlled hunting area and upgraded to a game reserve in 1963. Banyankole – Bahima residents continued to graze their cattle in the reserve until it was upgraded to a national park in 1983, this decision by the Obote government was to weaken the Banyankole who were supporting his rebels, and it came at the time the of operation Bonanza massacre of 300,000 people. As the chased pastoralists weren't compensated for their lost grazing grounds or allocated another resettling land, many were not pleased with decision by the government at that time. The rangeland out the par was continuously subdivided into small plots of land.
In 1985, the second Obote regime was overthrown and the residents chased the park officials from the park hence re-occupying the gazetted land, destroying infrastructure and killing wildlife. Less than half of the park's land was later re-gazetted by the National Resistance Movement in 1986. The park has got a variety of animals such as Zebras, impalas, reedbucks, warthogs, elands, buffaloes, hippopotamus, leopards, jackals and crocodiles lurking ashore and over 350 bird species with bill storks which are not found anywhere in the country.
This is the smallest park of all national parks in Uganda occupying 370 Km2 (100 Sq mi). This Uganda safari park has camp sites and permanent tent structures for tourists. Also hyenas, topis and recently the Rothschild's giraffes were introduced in the park, lions are rarely seen thought it's asserted that only one maybe left thus few canning predators. Lake Mburo has no elephants to balance the vegetation, in the Western part of the park, there's savanna woodlands coupled up with rocky ridges and forested gorges whereas many of other 13 lakes that form up the park are covered up by the "Lush riparian woodland" at a 50km long wetland system connected by a swamp, five of the lake are on the lake borders.
The park has over 350 bird species like crested francolins, brown parrots, common quails, bare faced go-away bird, red necked spur, southern red bishop, black bellied bustard, African grey hornbill, green wood hoopoe, brown parrot, yellow throated long claw, blue-napped Mousebird, black billed barbet and many more other birds, this park has the hidden eye catching white winged warbler, African fin foot and the swampy Shoebill stork.
Lake Mburo offers an amazing experience to game watch Leopards hunting especially during the night game drives because they're much more active than day (Nocturnal) but as well hunt during day time and hides its prey (hunt) up in the tree away from other predators and also to feed it with the young ones (Cubs) or eaten at a later time. With the absence of scary lions and giant elephants, the park gives an ideal sense of nature walks and horse riding through out in search for wildlife. Other activities include bicycle riding tours.
Lake Mburo can be visited annually; it's not limited to tourists paving way for gaming viewing and sightseeing throughout the year. In the dry season (June to August and December to February), animals are mostly seen along river banks, springs and small drainages. During the wet season (April to May and September and November) animals are sighted in herds in open fields grazing on the fresh grass.
An important note is the main story of how Lake Mburo came up being linked to the "Ankole Myth." It is believed that two brothers that are "Kigarama and Mburo" lived in the valley basin, one day, Kigarama dreamt and shared a dream with his brother Mburo telling him that they had to relocate or move. Mburo was adamant to his brother's dream of moving, Kigarama relocated uphill and Mburo remained in the valley.
Mburo was one day drowned in water which flooded the valley because he failed to listen to his brother. From that day to present, the lake was name after "Mburo" and the neighboring hills were named after "Kigarama." Before or after leaving the park, go through "Igongo cultural centre" situated just 4km at Sanga gate offers an exclusive display and review of the "Banyakitara people" who were once the occupants of the Western sub region in Uganda. Lake Mburo national park has around 6 fish species with tilapia being the dominant species and the fishing activity is mostly carried out at Mazinga fishing spot.
Visiting Rubanga forest is a must for a memorable trip to Lake Mburo national park, a guided nature walk through the park creates bondage between humanity and the flora and fauna in the park. Exploring the nature at its best with closed canopies from tall tropical trees, a breakthrough towards the salt licks with gatherings of many animals licking the salty soils. A boat cruise offers an extensive view of the aquatic animals on the shores like Hippos and crocodiles, lake birds such as great cormorants, pelicans, the fish eagle and the Shoebill stork (great links to ancient Egyptian history).
Lake Mburo is the first game park after crossing the Equator, this is also part of the amusements to approach before reaching the park. The Equator crosses through Uganda at latitude marked 0˚ and provision of gravity water (Souvenirs) at the site, taking photos at the Equator sign post. Accommodation in Lake Mburo is provided by luxurious facilities with excellent service at Mihingo Lodge and Mantana Luxury Camp. Also there are public three campsites found around the Rwonyo park headquarters. Lake Mburo can be accessed by air and road transport, by rod, it takes 4 hours to get to the park and 4 ½ hours from the park Kampala (the capital city).
SEMULIKI VALLEY NATIONAL PARK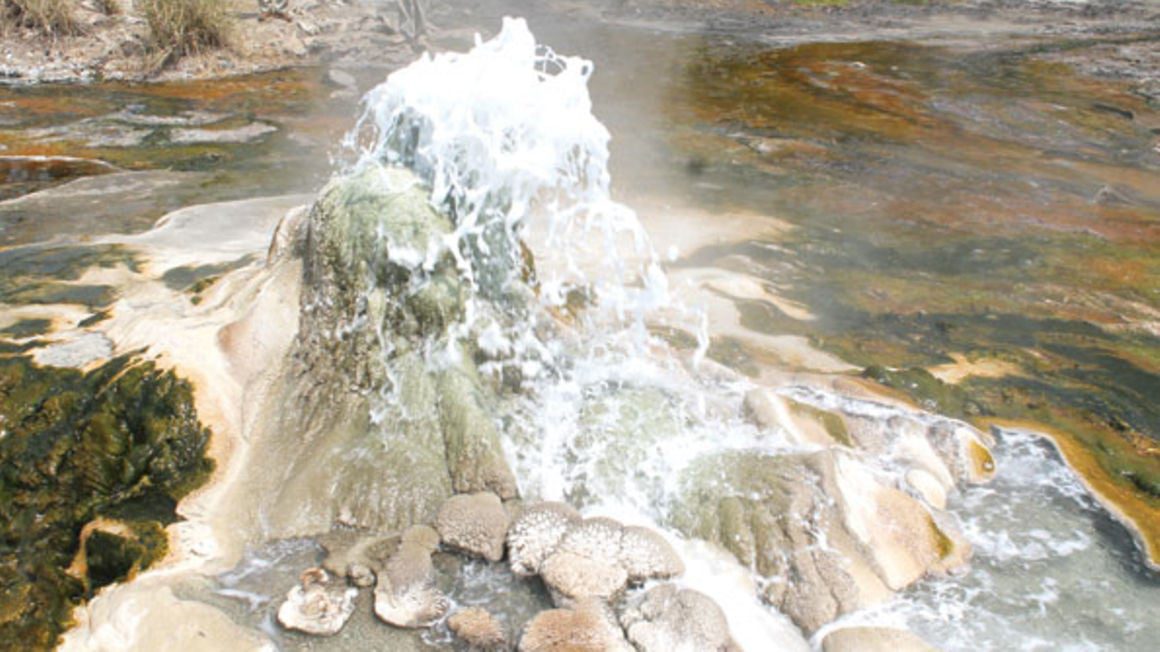 Semiliki valley national park is situated in the extreme western part of Uganda; the forest extends from the Ituris forest of the Congo basin at the western arm of the great east African rift valley. The forest is one of the ancient tropical forests that survived the last ice age period. You will visit it on your Uganda safaris to Semuliki Valley National Park.
Semiliki forest is also the only low land semi deciduous forest in east Africa, the park was first gazetted as a game reserve in 1932 and upgraded as a national game park in 1993. The park covers an area of 220 kilometers squared. Semiliki National Park the park is located in Bwamba County a remote area of Bundibugyo district in western Uganda. The national park was established in 1993 and its one of the Uganda's newest national part, the park is a lowland tropical rain forest its rich in flora and fauna diversity this park is also managed by the Uganda Wildlife Authority.
The park is located at the border with Democratic Republican of the Congo near the Rwenzori Mountains at the south east part of the park, Lake Albert is found at the north of the park. The park borders Lamia Rivers and Semuliki this area is a watering area for many animals. There are two hot springs one of them is called Mumbuga spring this resembles a geyser and forms about 0.5m high fountain.
The hot springs are the source of salt for many animals. The park is protected by Albertine Rift valley. visitors can engage themselves in game drives, bird watching this is across the savannah hiking, grassland this is through 13 kilometers trail, visit the Semuliki hot springs with enough water to cook eggs and plantia. Semiliki National Park is a distinct ecosystem found within the Albertine Rift.
Semuliki vegetation is a predominantly medium altitude moist evergreen to semi forest. The trees are evergreen in nature with swamp forest. The park has over 60 mammal species including leopards, hippos, buffaloes, hippos, water, bush babies, elephants and many more. The park has great socio-economic to human communities that live near  the park .The products obtained from the forest include vegetables ,fruits, herbal medicines, bush meat and construction materials and many more.
The population has increased from 3.4% every year. The density in agricultural production has increased due to more roles played in the forest such as spiritual and cultural role within the local people. Semiliki national park is home to various wildlife, 27 of its mammal species are endemic to the area such as the pygmy antelope, queer water chevrotains, flying squirrels, buffalos, galago and many others. Semiliki also harbors various primates such as Dent Mona monkeys, black and white colobus monkeys, vervet monkeys, chimpanzees, olive baboons, De Brazzas monkey and the grey cheeked monkeys among the rest.
Semiliki valley national park boasts with about 441 species of birds of which 66% represent all the forest birds in the country, 46 Guinea- Congo Biome species that can't be found elsewhere in Uganda. Some of the examples of birds in Semiliki include; red billed dwarf, crested malimbe, orange cheeked waxbill, white crested hornbill, leaf love, Nkulenga rail, yellow throated cuckoo, African peculate, Capuchin babbler, blue headed crested flycatcher and many others.
The Semiliki hot springs are various famous within the park, there are two hot springs the male and the female hot springs. The male hot spring is known as Bintente measuring up to 8 meters high and the female spring Nyasimbi. The local people used to boil their food in these hot springs and they having interesting beliefs and myths about the existence of this hot springs. Semiliki valley national park is surrounded by different tribes like the Bakonjo who cultivate the Ruwenzori Mountain slopes, Batuju cattle keepers, Bamba farmers and the Batwa the hunter gatherers living at the edge of the forest. These different groups can perform local traditional dances that makes your African safari memorable.
Hiking the hills in Semiliki valley national park can take about 2-4 hours providing spectacular views of the Ruwenzori Mountains and the neighboring Congo while encountering a lot of wildlife and bird species. Sport fishing can also be done at the Semiliki River, however tourists interested in his activity should endeavor to Carey their own fishing gears. Semiliki national park can be reached from Kampala via Masaka to fort portal in about 4-5 hours. The longer route via Kasese takes about 7-8 hours.
MOUNT ELGON NATIONAL PARK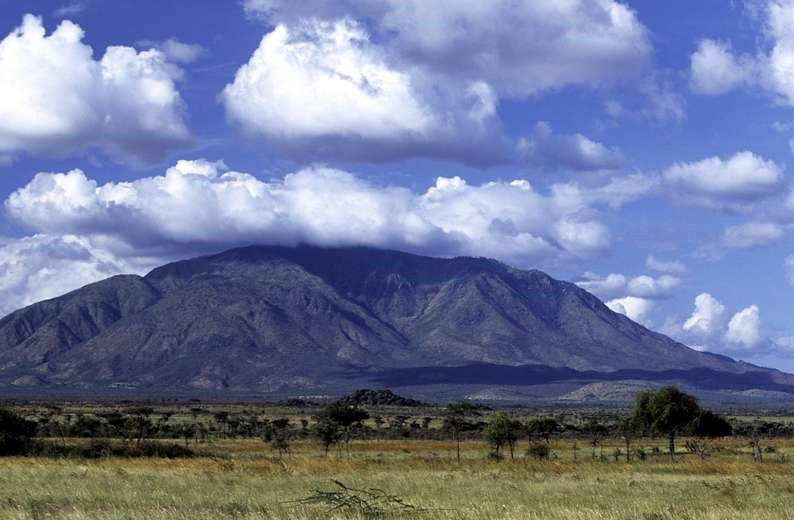 Mount Elgon National Park is located in the eastern part of Uganda rising at an elevation of 4,321 meters above sea level. The mountain erupted over 24 million years ago and it now boasts with the largest surface area of all extinct volcanoes on earth. Mount Elgon is shared between Uganda and Kenya with the highest peak Wagagai being in Uganda. The mountain also boasts with the world's largest crater covering an area of about 40 kilometers squared. The park covers an area of 1,121 kilometers squared. Mount Elgon is also a UNEACO man and biosphere reserve, the park is home to various primate species and mammals like buffaloes, forest elephants, bush bucks, giant forest hogs, small antelopes and many more. Its a great place for Uganda safari holidays.
Mount Elgon is an extinct shield volcano located at the border of Kenya and Uganda north part of Kisumu and the western part of Kitale the highest point is named in a local language "Wagagai, this area is within Uganda. Mount Elgon is a solitary volcanic mountain it's found in Kenya. Mount Elgon's vast is formed at 80 kilometers in diameter; it rises 3,070 meters above the plains. The cooler heights offer hot plains which are on a higher altitude this is a habitat to fauna and flora. Mountain elgon is known for its largest calderas in the world.
There caves at mountain Elgon these include the Kitum cave, Ngwarisha, Chepnyalil, Makingeny this is over 60 meters wide and it penetrates 200 metres. The caves contain salt deposits these is linked by elephants that lick salt exposed by the walls with their tusks. The main tourist's activity done in mount Elgon national park is hiking, tourists can get immersed in he stunning beauty of scenic views at Wagagai peak and also explore the crater while coming across many tree species some of which cannot be found elsewhere. There are three main trails to the peak of Mount Elgon, Sasa trailhead, Sipi trail head and Piswa trail head.
Trekking to the park of Mount Elgon takes about 5 – 6 days to complete, all the trails have camping sites along the way with water sources and latrines. Tourists are always advised to carry with them camping equipment's. Tourists not interested in reaching the peak can hike up to half day in mount Elgon for example to the unique ancient stone age cave paintings, hot springs, the views are simply magical making it one of the most beautiful mountains in Africa. There are various magnificent falls in Mount Elgon but the commonly visited are the cascading Sipi falls, tourists can hike 3 of the main Sipi waterfalls and also have a picnic near the falls.
The mountain slopes of Mount Elgon are occupied by the Sabinyo and he Bagishu tribes. All this tribes have very rich cultural beliefs and customs for example the Bagishu conduct circumcision ceremonies annually for young boys believed to be entering adult hood. The Kadodi dances are performed and theirs a lot to learn. The Sabiny also do circumcision for girls during adolescent. Mount Elgon national park is home to about 300 species of birds, some of the examples of birds at the park are lammergeyer, white starred forest robin, Jackson's francolin, alpine chat, Weyns weaver, mash widow bird, hunters cisticola, red throated wryneck, black collared apalis and mustached green tinker bird to mention a few.
Basic accommodation is found inside Mount Elgon national park, tourists can sleep in various hotels in Mbale town or they can carry their tents and utilize the campsites. When travelling endeavor to carry sleeping bag, tent, warm clothing, garden gloves and so much more. Mount Elgon national park slopes can be visited all year round but the best time for climbing to the peak is in the drier months of June to September and December to February when the hiking trails are in good condition. Mount Elgon National Park can be reached within 4-5 hours drive from Kampala.
Kibale Forest National Park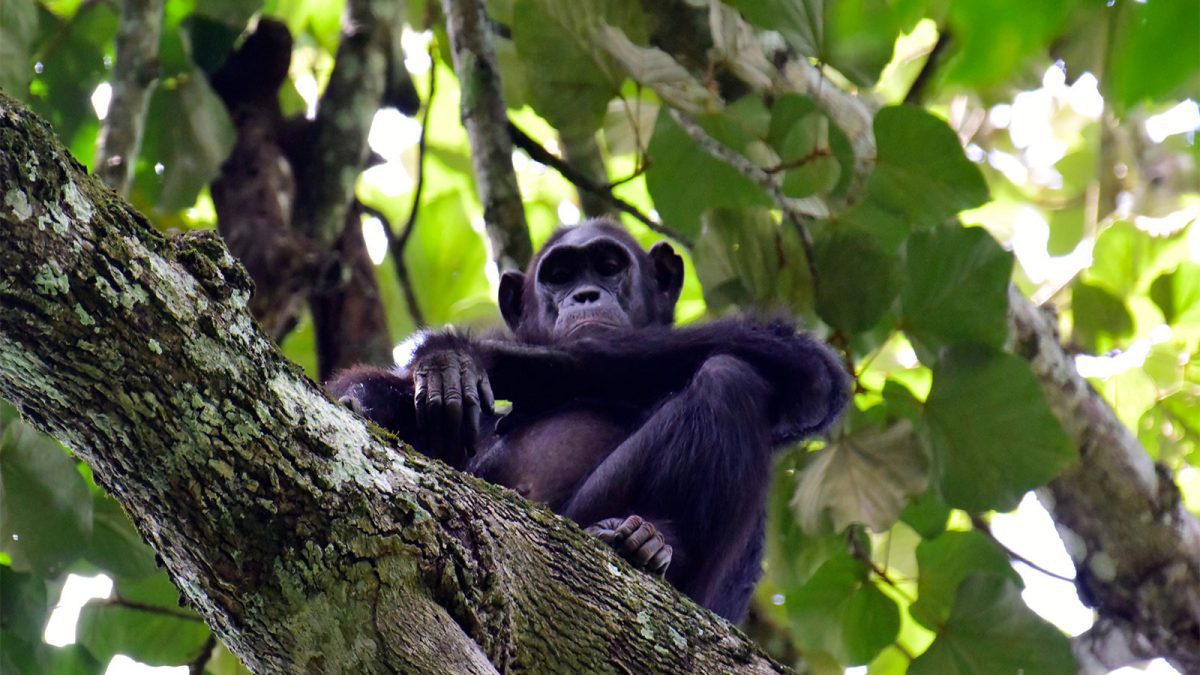 Kibale forest national park is situated in the western part of Uganda covering an area of about 795 kilometers squared. The park boasts with about 77 mammalian species, 13 primate species, 351 tree species and 371 species of birds recorded. The park adjoins the famous Queen Elizabeth National Park forming a 180-kilometer corridor of wildlife between Ishasha sector of queen and Sebitoli in the north of Kibale. It`s a great place for Chimpanzee safaris in Uganda.
Kibale forest national park was established in 1993. Kibale National Park is the last one that contains both Montane and lowland forests. Kibale National Park adjoins 180 kilometers wildlife corridor, it's as well an important eco-tourism and the best safari destination, the park is popular for the habituated chimpanzees and other primates, the area is also the Biological Field station.
There are two major tribes around the park including Bakiga and Batooro. These tribes use the parks for food resource; the 14 species of primates living in Kibale national park include L'Hoest's monkey, colobus, blue monkey, black and white colobus, blue monkey, Ugandan red, and many more.
The chimpanzees are known for eating figs in Kibale National Park; other popular mammals include the elephants, red and blue duikers, sitatungas, bushbucks, giant forest hogs, warthogs, buffaloes, and many more. There are carnivores such as African Golden cats, Servals, leopards others include mongooses. The park has a number of bird species such as cuckoo, western tinker bird, olive long-tailed, grey parrot. Primates are very common in Kibale National Park.
Attractions and Activities in Kibale National Park
This park is located in kabarole district in western part of Uganda and it covers an area of 776 km2 Kibale National Park was gazette in 1932 as a game reserve and later established into a national park in 1993 to protect a large area of forest. The park forms a continuous forest with Queen Elizabeth National Park which creates a wildlife corridor that boasts the eco-tourism and safari destination. It is a home to one of Uganda's most beautiful tropical forests dominated by the thick ever green trees. Kibale National Forest has approximately 229 species of trees found within the moist tropical forests of the park. Some endangered timber species of trees include Cordia millenii, Entandrophragma angolense, and Lovoa swynnertonnii. The forest understory is dominated by shade-tolerant shrubs and herbs, which include Palisota schweinfurthii and Pollia condensata. The nature of this forest is popular for its population of the habituated chimpanzees and twelve other species of primates.
Kibale national park has one of the highest diversity and concentration of primates in Africa with 13 primate species. This Park is a home to a large number of endangered chimpanzees. These are the major attractions of the park. According to wildlife, the chimpanzees are categorized under the endangered primates next to the mountain gorillas. However, there are still quite a number of chimpanzees scattered in a number of destinations in Uganda. The DNA of the chimpanzees is believed to be 98% human. This makes them intelligent and communicative animals towards people. The chimpanzees are also highly sociable and live in big families and make their own Nests where they sleep at night. According to the Uganda Wildlife Authority, Kibale has a higher number of chimpanzees thus making it the best National Park for Chimpanzee trekking and habituation in Uganda.
Other primates in Kibale include the red colobus monkey and the rare I'Hoest's monkey, the olive baboon, the grey cheeked mangabey, bush baby and potto which can also be seen during the chimpanzee trekking, game drives and nature walks.  The park also has some mammals though they are rarely seen including elephants though a number of them travels between the Kibale park and Queen Elizabeth national park, bush pigs, duiker, buffalos, Leopards, African golden cats, different mongooses, two species of otter and some reptiles and availability of colorful butterfly species which can be seen during the Nature walks and birding. There are also some lions in this park though they visit the park occasionally.
Kibale Forest National Park being forested harbors over 325 variety of bird species of which some bird species are native to the Albertine Rift destination including the black-capped Apalis, blue-headed sunbird, collared Apalis, Red-faced woodland warbler, dusky Crimsonwings, and the purple-breasted sunbird.Other bird species in this park include blue-breasted kingfisher, yellow Spotted Nicator, green breasted pitta, African pitta, black bee-eater, Abyssinian ground thrush, little Greenbuls, black-eared ground thrush, brown chested alethe, yellow rumped tinker bird, the crowned eagle, olive long-tailed cuckoo, western tinker bird, two species of pittas (African and green-breasted pittas), the grey parrot and the ground thrush (Turdus kibalensis) which is endemic to Kibale National Park
The following tourism activities take place in this national park which include chimpanzee trekking, chimpanzee habituation, birding, exploration of crater lakes, Amabere Ga Nyina Mwiru, bushcraft children's activities, nature walks among others.
Chimpanzee trekking: chimpanzees are found in densely forested areas of central and West Africa. However, Uganda is the most populated destination for chimpanzee trekking with most concentration in Kibale Forest National Park.  Chimp trekking is the most popular tourism activity in Kibale Forest National Park and this activity is the major reason for conservation of this park. Kibale Forest is one of the best places in Uganda and the entire world to see chimpanzees. For one to do a Chimpanzee trekking in Kibale, you are required to obtain a chimpanzee trekking permit from the Uganda Wildlife Authority. Chimpanzee trekking is one of the most interesting activities best done in Kibale national park. Kibale national park has the biggest population of chimpanzees in Uganda and is the reason as to why it is referred to as "the primate capital of the world". Chimpanzee trekking is better done in the morning when the chimpanzees are coming down from their nests up in the trees and it takes about 2-5 hours depending on how long you take to reach the chimp family.  However, once the chimpanzees are found, only 1 hour of interaction is allowed for you and these primates in their natural setting. During the chimpanzee trekking, the visitor gets a chance to learn their behaviors such as the feeding habits, sociality, interactions, with other groups and humans, plus, taking closer and clear photos of the chimpanzees is allowed but no flash light.
Chimpanzee habituation: In Kibale national park chimpanzee habituation is done either half day or full day according to the visitor's interest. In this process, the visitors join the game rangers and move in the forest in search of the chimpanzees and once they are found, the visitor is given enough time intimate to associate with them training them how to get used with human being. This is the most tiring but enjoyable experience by the visitors who visit Kibale national park as the chimpanzee keep on moving and you follow them up through the daylight until your feet says no to your mind.
Birding: Bird watching is done at Kanyanchu in Bigodi Wetland Sanctuary which is a home to over 138 species of birds. During birding, a tourist is able to see several bird species including; Yellow-billed Barbet, Yellow-spotted Barbet, Hairy-breasted Barbet, White-spotted Fluff tail, Grey-winged Robin-chat, Black-crowned Waxbill, Brown-backed Scrub-robin, White-tailed Ant-thrush, Black-and-white Shrike-flycatcher, Brown-throated Wattle-eye, Brown-crowned Tchagra, Bocage's Bush-shrike, White-breasted, Superb Sunbird, Black Bishop and many more birds. This activity is done early in the morning. Birding is best done in this park and your Kibale Safari tour will be made by this activity.
Hiking and Nature walks: Hiking and nature walks is normally done in the Kanyanchu which is in the central part of the park. It is famously known for the forest walk due to the nature of the forest which consists of evergreen trees and deciduous with evergreen species dominating the forest where visitors have a close look and learn about the different fauna and flora species ranging from moist evergreen forest along the Fort Portal plateau, then through the dry tropical forest which is moist semi-deciduous, and to the woodland and savanna along the rift valley. Hiking and nature walk in the Kanyanchu is done early morning when most of the primates such as the chimpanzee are easily seen and late in the night when most of the animals are resting. To perform the night walks, a tourist must use powerful sport lights to be able to see the nocturnal creatures such as bush baby, nightjar, potto, cricket and tree hyrax, and many more wild animals.
KIBALE-NATIONAL-PARK
Visiting Bigodi Wetland Sanctuary: visitors are allowed to visit this wetland during nature walk. This sanctuary is located outside the park in Magombe swamp. It is managed by the local community and to access it you must pay some money which is later used to improve the standards of living of the people around the swamp, the income generated from this swamp is used in constructing schools, health centers and other facilities to help in developing the area around it. This place harbors over 138 bird species which will catch the eyes of the birders. Also, eight primate species are easily found in this wetland including the black-and-white colobus, olive baboons, Bushbucks, mongooses, grey-cheeked mangabey, red-tailed monkeys, I'Hoest's and blue monkeys
Guided forest walks: This forest walk in Sebitoli forest is provided by the Kibale's secondary tourism Centre in the north of the forest. In this activity a visitor has a chance to encounter primates such as red colobus, black-and-white colobus, blue monkeys and vervet monkeys. With a close look in the forest, Visitors may also be able to see several aquatic animals, savannah birds, some reptiles, bird species and butterfly species
Kihingami Wetland: this wetland is located near Sebitoli in northern Kibale, this community-run project offers excellent bird watching and visits to the local tea estates and factory. It's a best place for bird watching and nature walks as you can see several animals like the Otter and other animals similar to those seen in Bigodi wetland sanctuary.
Cultural encounters: This activity involves in both the visitors and the locals of the Kibale national park. In this experience, the visitors walk with the Batoro through the Magombe swamp wetlands observing different species of birds, wild animals, domestic animals, butterflies and vegetation of the Magombe swamp. The visitors are also allowed to make some stops in local schools, traditional healers and also be able to see the Amabere Ga Nyina mwiru.
Visit to the Amabere Ga Nyina Mwiru: These natural features were formed as a result of stalagmites and stalactites. However, the Batoro have a belief that these rocks are the breast of a young princess Nyina Mwiru which were cut off by her father the King for refusing to get married to the man whom he had chosen for her. These rocks drip white fluids which made the Batoro believe that its milk. Thus, influencing tourists to flock this place during cultural encounters and community walk to learn more about these features and have contributed greatly to the tourism industry and the community around.
 Exploration of the crater lakes: these lakes were formed as a result of violent volcanic activities that led to the blowing off of the surface, leaving behind depressions. Some of these volcanic features were later filled up with rain water to become the crater lakes which are good for hiking and swimming.
However, some of these crater's lakes have sulphric water, green in color, due to the continuity of the volcanic activity below the lake; these lakes are toxic and associated with a bad pungent smell making the water acidic. In this activity several craters' lakes are seen including the Lake Nyabikere, Lake Nkuruba, Lake Nyinambuga crater, Lake Lyantonde, Lake Kifuruka which are all seen during the safari in Kibale National Park.
These lakes are mainly found in the Katwe crater area of explosion craters. The others are located around Kichwamba escarpment also known as the Ndali kasenda area yet others are located near Fort portal.
Chimpanzee trekking is such a rewarding activity that you would not want to miss during your primate's safari in Uganda. Also, the visit to the Amabere Ga Nyina Mwiru is such a wonderful experience, enjoy the birding with the variety of the bird species and crown up your day with a visit on the crater lakes where you will swim and refresh your memory.
BWINDI IMPENETRABLE NATIONAL PARK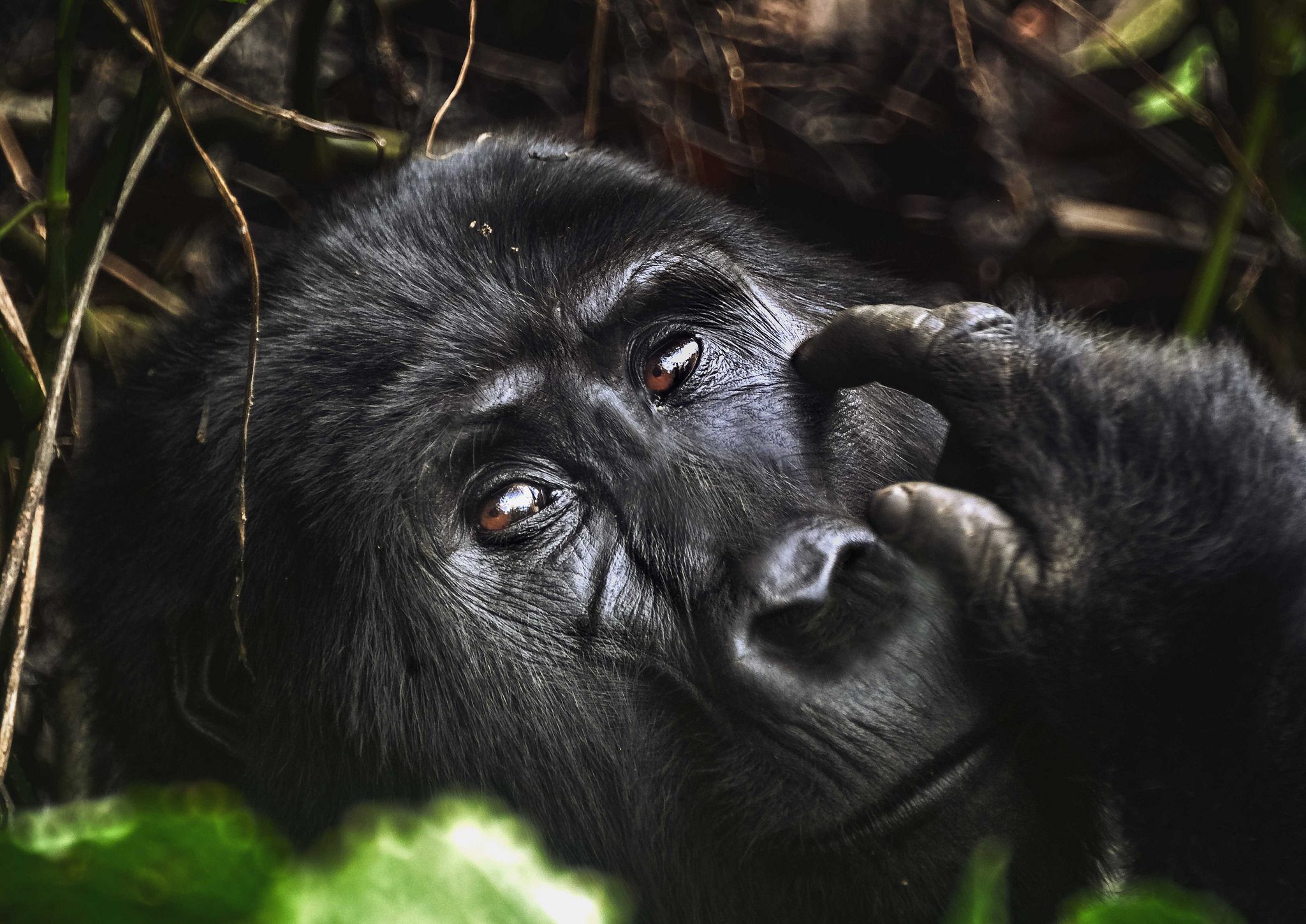 Bwindi impenetrable national park is situated in the south western part of Uganda at the rim of the western arm rift valley covering an area of 331 kilometers squared Bwindi Forest is one of the ancient tropical forests that survived ice age. Bwindi impenetrable national park is home to the remaining half of mountain gorillas in the world with eleven primate species, 120 mammal species, 200 butterfly species, 360 species of birds and about 320 species of trees. Bwindi Impenetrable National Park is located along the south western part of Uganda near the Democratic Republic of the Congo border next to the Virunga National Park it's found at the edge of the Albertine Rift. It's a great place for gorilla safaris in Uganda.
Bwindi Impenetrable National Park
The land is composed of 335 square kilometers on lowland and Montane Forest, this national park can only be accessed on foot, the species diversity are the main features of the park, the habitat is a home for 120 species of mammals,350 bird species,30 frog species,250 butterflies, geckos, chameleons and many more other types of species.  Bwindi National Park has more than 1,000 flowering plant species these include 163 species of Guineo-Congolian Flora, the endangered species include Brazzeia longipedicellata and many more.
The park is a sanctuary for chimpanzees, colobus Monkeys, white and black colobus monkeys such as Turacos and many more. Bwindi is a home to mountain Gorillas, half of the world's population these endangered Mountain Gorillas are inhabited in 4 sectors in Nkuringo, Rushaga, Buoma and Ruhija all these are under the management of Uganda Wildlife Authority in 1964. The reserve was an animal farm this was to provide more protection for the Mountain Gorillas which is a impenetrable center forest Reserve, the total number is about 334. The park  is a forest reserve and game sanctuary, the area is covered on 330.8 square Kilometers, its protected a range of  species which is most notably the mountain Gorillas, during the reclassification of the forest there was large impact on the Batwa pygmy people who were no longer permitted to  enter the park and access a number of resources .
Gorilla Tracking is one of the best activities which runs throughout the year it started in 1993 it became a popular tourist hub. Bwindi Impenetrable National Park is one of the oldest national parks it became an UNESCO world Heritage Site. It's plain forested mountain, it's a continuum of low-altitude to high altitude in the park.  It's the richest faunal communities in East Africa with an estimation of 120 mammal species in the park of which 11 are primates, and about 45 small mammals. Bwindi impenetrable national parks, has no mountain Gorilla captivity. These endangered species were captured in 1960s and 1970s to begin a captive facilite however during the captivity no baby gorilla survived and none is known for currently captivity. The park is gazette as a national park in 1991 because of the biodiversity.
Gorilla trekking
Bwindi impenetrable forest national park has habituated 12 mountain gorilla families that can be visited by tourists, gorilla trekking is one of the most sought tourists'activities in the world. This involves tracking mountain gorillas and given one hour period of observing the great apes. This is the famous attraction in Bwindi forests and costs only $600.
Gorilla habituation
Bwindi impenetrable forest national park is the only place that offers gorilla habituation experience in the world, this is when tourists join researchers and scientists in the process of gorilla habituation, unlike gorilla trekking this takes four hours than the usual one hour and the cost is $1500 which is the cost of trekking gorillas in Rwanda.
Bird watching
Bwindi impenetrable forest national park is home to about 360 bit species recorded, 23 of this bird species are Albertine endemics some of the birds that can be spotted in Bwindi include; Dusky crimson wing, bar tailed trogon, honey guide, yellow eyed black fly catcher, Kivu ground thrush, white tailed blue monarch.
Nature guided walks
Bwindi impenetrable forest national park boasts with three areas where gorilla trekking can be done from and all these areas have different unique walking trails established all leading to unique destinations and the toe taken depends on the route you choose like the Ivy River trail, Bamboo trail and many others tourists will also have chances of sporting primates like black and white colobus monkeys, blue monkey, red tailed monkeys and many others.
Bwindi impenetrable forest national park can be accessed from Kampala within 9-10 hours' drive, alternatively tourists can fly in to Rwanda and travel for only 4-5 hours but the panoramic views from Kampala are very rewarding. While at Bwindi impenetrable forest national park tourists can sleep in hotels such as Rushaga gorilla camp, Gorilla mist camp, Matana tented camp, Nshongi camp and many others where to sleep will depend on tourists' budget. The best time for visiting Bwindi impenetrable forest national park is in the dry season from June to September and December to February.